Online Sailracing!
Sailonline.org is owned and operated by Sailonline NavSim AB, a not for profit, community-owned company.
Sailonline's mission is to offer a superior internet-based sailing and navigation simulation to the global sailing community, whilst ensuring a future of growth and continuous enhancement to benefit its users through financial viability and long term vision.
All Sailonline boats and their properties are purely virtual and do not necessarily reflect real world data.
Sailonline is free for everyone to play and is supported by SYC Memberships.
Create your account
News from the blog
Welcome!
Now login with our guest account to view currently running races: Username: guest - Password: guest
PLEASE ONLY REGISTER YOUR OWN USERNAME AND PASSWORD IF YOU INTEND TO RACE.

GDPR - General Data Protection Regulations - Sailonline wishes to reassure all SOLers that it is aware of the regulation changes in relation to the protection of personal data. Sailonline cares about your privacy and will continue to let you control the personal information you provide. More info here
Sailonline is delighted to announce it is once more partnering with the prestigious San Diego Yacht Club to run a virtual version of the 2021 Islands Race in tandem with the real event. SDYC has been racing in reality in the waters off San Diego for 130yrs and in 2016 it became the first USA West Coast yacht club to bring virtual sailing navigation to its members and the west coast sailing community.
The first Islands Race was held back in 2010 and has become a regular season-starter ever since, but this will be only the second time that Sailonline has provided a virtual version of the race for all-comers! The real fleet has to observe a military exclusion zone around the entire island of San Clemente, so our virtual course has our San Clemente waypoint offshore to reflect this. As ever we will be sailing our TP-52s around the 134nm official course and plan on bringing the real fleet on-screen so we can directly go head to head with the real fleet
Sailonline's race will open for pre-race practice on Sunday, 28 February.
Current Entry List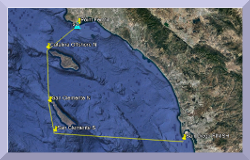 click on the COURSE image to see larger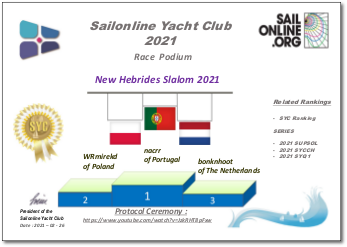 click on results image to see larger
PARABÉNS nacrr!!
GRATULACJE WRmirekd!! GEFELICITEERD bonknhoot!
Race Leaderboard
Reports


Commentary
Light winds again greeted our fleet of SOLers for this the second race of the 12-race SYC Championships (with 2 discards). However, despite our forecasts being high resolution wrf, they proved relatively steady from one forecast to the next and only subtle differences in routings provided opportunities for competitors to eke out slender leads on their nearest rivals, in particular on the first EU-night upwind crossing of the Loyaute Basin to We, and on the last day downwind across the sea from Ambryn to Port Orly.
But with a chain of islands to be negotiated as we weaved our way north through Vanuatu, a BBQ could easily undo whatever lead one might have developed, and so, as our winner and runner-up modestly reflect in their reports under the buttons above, it was that nacrr, not putting a foot wrong took the gun whilst one after another of his rivals went ashore for a little (or a lot of) R & R; nacrr The Navigator indeed!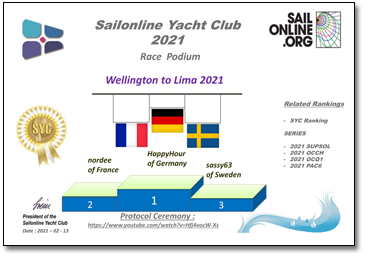 click on results image to see larger
HERZLICHEN GLÜCKWUNSCH HappyHour!!!
FELICITATIONS nordee!! GRATTIS sassy63!
Race Leaderboard
Commentary
Our Maxi Trimaran did indeed prove very speedy in the long Southern Pacific ocean race, but in the end it was HappyHour who was the clear winner. Congratulations!
The weather in this part of the world is often difficult to read over the long term, and being one of the less-traversed of the world's oceans, there are no common sailing routes for racers as opposed to cruisers. The fleet split into three, spread between the rhumb line and the deep south and for most of the race it was unclear who would prevail.

click on results images to see larger
GRATULACJE WRmirekd!!
FELICIDADES rafa!! FELICIDADES GREATSKUA!!!
Race Leaderboard
Report

Commentary
As so often, the winds were fickle and variable across the sheltered waters of the Puget Sound and Georgia Straits for the 2021 edition of Sailonline's classic Inshore Pacfic Northwest race, this time using nam_awip 0.125 x 0.125 degree mezzo-resolution forecast gribs. But J-122s ghost along quite nicely and thus the leaders managed to complete the 137nm from Vancouver to Seattle in just under 38 hours for an average VMC of 3.7 knot.
And of course the spectacular scenery and wildlife of the northern Pacific archipelago were always there to distract our 135 racers, and many an impromptu BBQ ensued! But somebody had to win and this year it was Poland's WRmirekd's turn, coming in an impressive 6 minutes ahead of second placed rafa, with GREATSKUA (see his report) grabbing third spot. A fine international podium!

Races
Next Race: 00d 00h 00m
---
Current Races:
Lanzarote to Grenada 2021
It should be a great time of year to sail the third Ocean race of this Quarter in our luxurious Xp55 from the Canaries 2865nm down to the lush Caribbean island of Grenada, famed for its rum, spices and chocolate. Serious chocoholics can even sign up for a tour, which includes a scrumptious three-course lunch spotlighting chocolate in every course.
PRIZE: SMPF
Race #1442
INFOby brainaid.de
Xp55 PARTICULARS
WX Updates:
0430 / 1030 / 1630 / 2230
Ranking:
OCCH-OCQ1-SUPERSOL-SYC
Race starts: Mar 08th 21:00 Registration Open!

GO TO RACE
CCA Delivery Cruise 2N 2021 - Halifax NS - Clarenville


Welcome again to (virtual) delivery cruising. Those arriving from Sandwich MA have refuelled and reprovisioned and are ready to join join local boats now departing for Clarenville, sailing north around Newfoundland. Our challenge is to look ahead at the long range weather models and select the best weather window for departure promising fair prevailing breezes without encountering major storms in the Gulf of St Lawrence funneling into the Strait of Belle Isle against the south flowing Labrador Current. If we have settled weather in the Strait, we may even be able to anchor briefly to visit L'Anse aux Meadows, the restored viking site that may have been Leif Erikson's 1001 AD Markland settlement. You may start at any time after 1900utc on 6 March, to arrive in Clarenville by 2300utc on 9 April.
Race #1419
INFO by brainaid.de
Santa Cruise 52 PARTICULARS
Passport Cruise 40 PARTICULARS
WX Updates:
0430 / 1030 / 1630 / 2230
RANKING: NONE
Race starts: Mar 06th 19:00 Registration will open soon

GO TO RACE
San Diego Islands Race 2021


Sailonline is partnered with San Diego Yacht Club for the 2021 Islands Race. This year we are racing TP52s to compete against the real crews in the 132nm course from Long Beach, around the Catalina Islands to San Diego.
Race #1435
INFO by brainaid.de
TP52 PARTICULARS
NAM_AWIP WX Updates:
0245 / 0845 / 1445 / 2045
Ranking: SYC
Race starts: Mar 05th 21:00 Registration Open!

GO TO RACE
San Sebastian to La Rochelle 2021
Once again, our SOL race will be shared with a group of Polish sailors, representing one of the stages of their Virtual Training Cruise around Europe. 171 nm in Delphia 47s across the not always calm Bay of Biscay from San Sebastian to La Rochelle will undoubtedly be one to test their skills. Welcome/Witajcie and we wish you all fair winds.
Race #1441
INFOby brainaid.de
Delphia 47 PARTICULARS
WX Updates:
0430 / 1030 / 1630 / 2230
Ranking: SYC
Race starts: Mar 05th 17:00 Registration Open!

GO TO RACE
Naples Triangle 2021
It's back to the Mediterranean again for round 3 of our SYC Championships over a 342nm course designed by our very own ita10267 who also is our organizing source for the super detailed hires wrf forecasts we are using to power our Carkeek 40s… from Naples, round the islands of Ustica and Stromboli and back to Naples to finish off the island of Capri. Divertiti!
Race #1426
INFOby brainaid.de
Carkeek 40 PARTICULARS
WX Updates:
0430 / 1030 / 1630 / 2230
Ranking:
SYQ1 - SYCCH - SUPSOL - SYC
RACE CLOSE: Friday,
March 12 at 2300 UTC.
Race starts: Mar 02nd 14:00 Registration Open!

GO TO RACE
Bora Experience 2021
Visit the Adriatic Sea for Bora Experience 2021.
Bora winds are feared by local sailors and tend to blow most strongly during the winter months, reaching record speeds above 200 km/h (125 mph). In our virtual Seascape 18 we fear not, and you are invited to race from Venice to Dubrovnik, navigating between the islands along the Croatian coast.
Race #1448
INFO by brainaid.de
Seascape 18 PARTICULARS
WX Updates:
0430 / 1030 / 1630 / 2230
Ranking: SYC
RACE CLOSE: Sunday,
March 7 at 2300 UTC.
Race starts: Feb 27th 16:00 Registration Closed

GO TO RACE
SYC Ranking
Series
Mobile Client
SYC members have the benefit of access to our mobile/lightweight web client!