Online Sailracing!
Sailonline.org is owned and operated by Sailonline NavSim AB, a not for profit, community-owned company.
Sailonline's mission is to offer a superior internet-based sailing and navigation simulation to the global sailing community, whilst ensuring a future of growth and continuous enhancement to benefit its users through financial viability and long term vision.
All Sailonline boats and their properties are purely virtual and do not necessarily reflect real world data.
Sailonline is free for everyone to play and is supported by SYC Memberships.
Create your account
News from the blog
Welcome!
Now login with our guest account to view currently running races: Username: guest - Password: guest
PLEASE ONLY REGISTER YOUR OWN USERNAME AND PASSWORD IF YOU INTEND TO RACE.
All times on Sailonline are in UTC

GDPR - General Data Protection Regulations - Sailonline wishes to reassure all SOLers that it is aware of the regulation changes in relation to the protection of personal data. Sailonline cares about your privacy and will continue to let you control the personal information you provide. More info here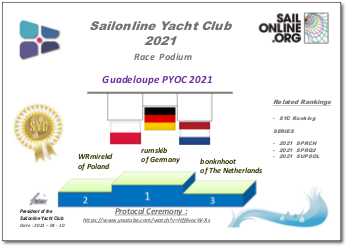 click on results image to see larger
HERZLICHEN GLÜCKWUNSCH rumskib!!!
GRATULACJE WRmirekd!! GEFELICITEERD bonknhoot!
Race Leaderboard
Commentary
Guadeloupe, an archipelago within an archipelago, counts six inhabited islands, the main two of which, Basse Terre and Grande Terre, are divided by a narrow marshy isthmus, that on zooming in on a SOL chart, SOL cartographer Renegade discovered could not be navigated, so he set a race course challenging us to find an alternative way around. The prevailing winds being from the North East, the west-way round Basse Terre in theory was going to 'enjoy' some shelter, while east-way round Grand Terre would get more of the breeze. On the other hand, rounding Grande Terre was going to more likely require more windward work, than rounding Basse Terre would. A proper puzzle then!
So, who solved the puzzle best? Who else, but Sailonline veteran rumskib, who is on something of a renaissance in 2021. Toi toi, toi, Mensch!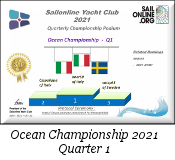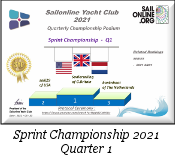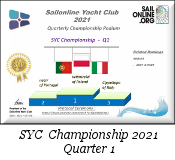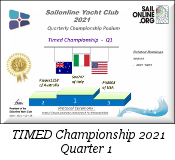 2021 Q1 SRC Review
Having begun the New Year, SOLers were looking forward to a new virtual season out on the water. With this quarter offering more open water racing than previously, as requested by our sailors, they were rewarded with fairly decent winds on the Ocean Races (Cape Town to Rio, Wellington to Lima. Lanzarote to Grenada and Sao Vicente to Colon) whilst the more coastal races encountered far lighter or more fickle winds (Shetland Winter (aka Up Helly Aa), Naples Triangle, Bora, Bangkok to Singapore and Singapore to Ko Tapu).
Fortunately, SRC had provided fast boats for these lighter wind races enabling some speed to be maintained but also permitting the more slippery competitors to escape the pack. SRC has to choose courses and boats up to three and a half months in advance of Wx forecasts, so please be tolerant.
Now moving on to the Quarterly Series winners continue here
Q1 Championship Results and Prizes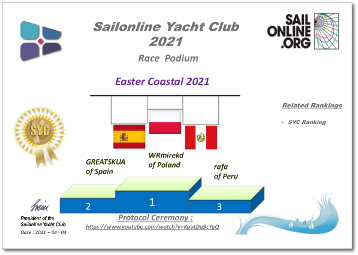 click on results image to see larger
GRATULACJE WRmirekd!!!
FELICIDADES GREATSKUA!! FELICIDADES rafa!
Race Leaderboard
Reports

Commentary
Since 2013, at least twice a year, Sailonline has been racing in association with Royal Hong Kong Yacht Club in the waters of Hong Kong and the China Sea. As #COVID19 pandemic restrictions remain in place for international racing , this fun course around the islands of Hong Kong was a last minute replacement for a China Sea offshore race.
SOLer Go4iT recognised the course as one he had raced in the past, that was known as an "over-nighter" that would finish in time for an excellent breakfast at RHKYC clubhouse. For us, however, it was a brand new event that slalomed round several islands and marks requiring good concentration – more than a few racers, relying on delayed commands for mark-rounding, came seriously unstuck and had to retrace their steps, a couple more than once!
The race saw an excellent participation of boats flying the flags of 27 nations and, as you can see from the timelapse, linked below, two of our final podium were always within the top 10 from the start, while the third moved up the fleet to consolidate a top spot. It is quite striking to observe the seeming ease with which these truly competitive racers then stayed the course to secure the podium! Nicely done, guys!
Timelapse by calmxy


click on results image to see larger
CONGRATULATIONS SlideRule!!!
CONGRATULAZIONI AL53_SSIta!! Συγχαρητήρια Zorba777!
Race Leaderboard
Reports
Commentary
December 2011 and Sailonline's first Asian Sprint series, retracing the path of 007 in his hunt for Scaramanga, in the movie "The Man with the Golden Gun"was coming to a close with this fourth leg from Singapore to Scaramanga's island lair. In 2011, race results blogs were super-brief affairs and the only remark made to the podium was "Well done for leading the SOL Fleet to Scaramanga's lair in conditions that weren't ideal - the final "squall" on the run to the finish was particularly unwelcome!" which suggests that all may not have gone to plan. A decade later and instead of squalls, which might have been welcome for their energy, the bulk of the Sailonline fleet encountered super-light and occasionally fickle winds – it was as if the wind gods went out of their way to reward the leading group, leaving everyone else to dawdle in a roughly correct direction as best they could! So they did!
Our winner showed tremendous skill – arriving 6.1/2hrs before the second podium place taker, who was a mere 7m 3s ahead of the third! From then on, a steady stream of boats arrived over the next couple of days and then just a few until, at race close, it became clear that many more than usual wouldn't reach the finish after 12 days on the virtual waters! Stats-wise, given the huge volume of ongoing racing, it was a good event, with 216 registered to race, flying the flags of 36 different nations.
Congratulations podium and a particular thank you to our winner, SlideRule, (and his boat-sitter HastySlug) for not only a super win but a truly informative Race Report and to Zorba777 for excellent insights into how the course raced this time!
Timelapse by calmxy
Races
Next Race: 00d 00h 00m
---
Current Races:
Santa Monica Ron Miel Regatta 2021
Welcome to Islas Canarias for the 2021 running of a classic SOL perennial: our 1220nm round-the-islands TP52 slalom, originally designed in 2012 by SOLer TheHorn, starting from and ending close to Playa del Ingles, Gran Canaria. This is our 10 year jubileum edition, as it was done for the first time in 2011 (on a slightly different track in year 1).
Race #1467
INFO by brainaid.de
TP52 PARTICULARS
WX Updates:
0430 / 1030 / 1630 / 2230
Ranking: SYC
Race starts: Apr 19th 18:00 Registration Open!

GO TO RACE
Jakob's Birthday BBQ Race 2021
Sailonline had two founders and Jakob, the more senior of the two, has his birthday in April and it is therefore fitting that Sailonline's tradition of celebrating this joyous event by racing like loons around the Stockholm Archipelago is upheld. Please join us in a tricky 30nm race in beautiful Linjet33s from Revengegrundet Lighthouse to a birthday BBQ by Baggensfjärden.
Grattis på födelsedagen Jakob!
Lycka till, alla!!
Race #1462
INFO by brainaid.de
Linjett 33 PARTICULARS
WX Updates:
0430 / 1030 / 1630 / 2230
Ranking: SYC
Race starts: Apr 18th 14:00 Registration Open!

GO TO RACE
Valletta Sprint 2021
Welcome once again to the Mediterranean and a true SOL perennial. At 588nm in often light Mediterranean airs, to-date no boat – multi or maxi, SOL or IRL – has managed to best the US's Rambler's time of 47:55:03 for this course set during the 2007 Middle Sea Race. This year, we offer you our Orange 125 catamaran, so the record is on!
Race #1458
INFO by brainaid.de
Orange 125 PARTICULARS
WX Updates:
0430 / 1030 / 1630 / 2230
Ranking: SYC
RACE CLOSE: Monday,
April 19 at 2300 UTC.
Race starts: Apr 11th 16:00 Registration Closed

GO TO RACE
Lima to Honolulu 2021
Welcome to Race 2 in our PAC6 Pacific Ocean racing championship, this a 3780nm leg from Lima to Honolulu in our fast Maxi Trimaran. Hopefully the trade winds will play ball and we should have a speedy trip, with only a small chance of the doldrums testing your light air skills!
PRIZE: SMPF
Race #1461
INFOby brainaid.de
Maxi Trimaran PARTICULARS
WX Updates:
0430 / 1030 / 1630 / 2230
Ranking: PAC6-OCQ2-OCCH-SUPERSOL-SYC
Race starts: Apr 06th 21:00 Registration Closed

GO TO RACE
Cape Horn TIMED Run 2021
Welcome to Chile, welcome to Cape Horn, and welcome to a course round these inhospitable waters. This is a place with plenty of wind and strong currents. Our 161 nm triangular TIMED RUN goes around two groups of small islands that are an important nesting site for a number of southern seabirds. Last raced in 2018, we are back here in our updated IMOCA 60s to attempt the challenge once more in these wild waters!
RE-REGISTER HERE to race again after finishing a run
Race #1463
INFO by brainaid.de
IMOCA 60 v2 PARTICULARS
WX Updates:
0430 / 1030 / 1630 / 2230
RANKING:
TRQ2 - TRCH - SUPSOL - SYC
RACE CLOSE: Sunday,
18 April at 23:00 UTC
Race starts: Apr 05th 12:00 Registration Open!

GO TO RACE
SYC Ranking
Series
Mobile Client
SYC members have the benefit of access to our mobile/lightweight web client!