Online Sailracing!
Sailonline.org is owned and operated by Sailonline NavSim AB, a not for profit, community-owned company.
Sailonline's mission is to offer a superior internet-based sailing and navigation simulation to the global sailing community, whilst ensuring a future of growth and continuous enhancement to benefit its users through financial viability and long term vision.
Sailonline is free for everyone to play and is supported by SYC Memberships.
Create your account
News from the blog
Welcome!
Now login with our guest account to view currently running races: Username: guest - Password: guest
PLEASE ONLY REGISTER YOUR OWN USERNAME AND PASSWORD IF YOU INTEND TO RACE.
All times on Sailonline are in UTC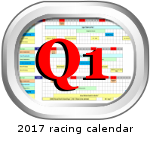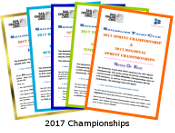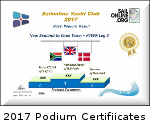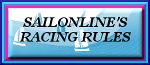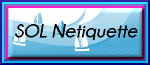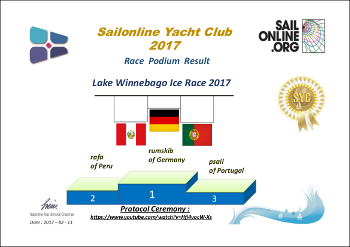 click on results image to see larger
HERZLICHEN GLÜCKWUNSCH rumskib!!!
FELICIDADES rafa!! PARABÉNS psail!
Race Leaderboard
Reports


Commentary
Racing Sailonline's iceboat is always fun and this year Lake Winnebago was in one of her "light wind" phases which meant that even with an abbreviation of the originally planned course of two laps around the lake our "sprint" which we have come to expect with our iceboat turned in to a little bit of a procession. HIRES WX made a massive difference and those who did well clearly took the finest of advantages of the slight shifts to achieve their success. Arguably this was a masterclass in not only sailing a subtle shift but in taking advantage of the zero performance loss of the iceboat itself.
Bravo podium! Many attempted to oust you from your prime positions which made you truly earn those top three spots.
Don't forget - if this was your first time racing on Lake Winnebago, it will count as one race of the five needed to meet the requirements of the Great Lakes Sailonline Honours Badge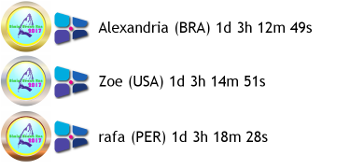 click on results image to see larger
PARABÉNS Alexandria!!!
CONGRATULATIONS Zoe!! FELICIDADES rafa!
Race Leaderboard
The Gunboat catamaran is an elegant affair and while the 90 was never built in reality, Sailonlne's polar is based on the planned boat. A truly cruiser-race cat, the waters around Bimini are the perfect setting for this beautiful yacht. Forget whether or not we could really sail through Andros Flats and fire up that imagination! The mere name Bimini conjures up a sense of warmth and glamour and, in the chill and snowy Northern Hemisphere at least, wonderful memories of sunshine, golden sands and blue waters!
Our podium are to be congratulated for an excellent result. Bravo guys!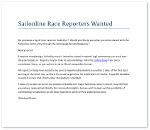 Races
Next Race: 00d 00h 00m
---
Current Races:
Channel Islands Ramble 2017
Welcome to a 300 NM slalom through the beautiful Channel Islands off the sunny Southern California coast. We start from Santa Barbara, and make a dash to San Miguel Island before weaving back towards Anacapa Island. We then head for San Nicolas Island and glide past Santa Catalina Island. After a run South to San Clemente Island, we turn back East to San Diego. When arriving, watch out for low flying naval aircrafts, for surfacing submarines, and for aircraft carriers of the US 7th fleet manoeuvring their way to the Coronado carrier berths.
Race #1021
INFO by brainaid.de
Santa Cruz 52 Particulars
USA_SW WX Updates:
0245 / 0845 / 1445 / 2045.
Ranking: SYC
ALT. CLIENT:Classic
Race starts: Feb 21st 10:00 Registration Open!
GO TO RACE
Iceland TIMED Race 2017
Welcome to the chilly north of the world and what should be a fast-paced TIMEDrace in Orange Cats off the S coast of Iceland - 150nm for you to race as often as you like over the coming weeks - volcano watching optional!
RE-REGISTER HERE to race again after finishing a run
Race #1011
INFO by brainaid.de
Orange Cat Particulars
WX Updates:
0430 / 1030 / 1630 / 2230
RANKING:
TRCH-SUPSOL-TRQ1-SYC
ALT. CLIENT: Classic
RACE CLOSE:Sunday, 26 February at 2300utc<
Race starts: Feb 17th 10:00 Registration Open!
GO TO RACE
2017 40' Series Championship Q1&Q2 New Hebrides Slalom
It's time for the second of six races in the 40' Q1 and Q2 Championship!
READ THIS CAREFULLY !!
You'll have three boat designs to choose from and each one may not be used more than twice during the six race Series, according to the NORof the series
The three boat designs can be seen in:
40' Particulars
IMPORTANT:
Before you choose the boat design, log in with the "Guest" boat (Username=guest/Password=guest) so you can view the predicted winds to help you choose the best boat/polar for the upcoming race. Once you have chosen to register a boat design for this race, it cannot be undone!
View this list to see what boats you've allredy used:
USED BOATS
Race # 1017
INFOfrom brainaid.de
WX Updates:
0430 / 1030 / 1630 / 2230
Ranking:
40Q1&2CH –SYC
ALT. CLIENT:Classic
RACE CLOSE: Monday, February 20 at 23:00 UTC
Race starts: Feb 13th 18:00 Registration Closed
GO TO RACE
RTWR 2016 - Leg 3 - Auckland to Cape Town
The third leg of Sailonline's wrong-way Round the World Race 2016 sees the fleet meeting head-on the challenge of the Southern Oceans in a truly tough leg from Auckland, New Zealand, to Cape Town, South Africa.
Race #1003
INFO from brainaid.de
VO70 Particulars
WX Updates:
0430 / 1030 / 1630 / 2230
Ranking: OCQ1 - OCCH - RTWR - SUPSOL -SYC
ALT. CLIENT:Classic
PRIZE: SMPF
Race starts: Feb 01st 10:00 Registration Open!
GO TO RACE
SYC Ranking
Series
Mobile Client
SYC members have the benefit of access to our mobile/lightweight web client!