Online Sailracing!
Sailonline.org is owned and operated by Sailonline NavSim AB, a not for profit, community-owned company.
Sailonline's mission is to offer a superior internet-based sailing and navigation simulation to the global sailing community, whilst ensuring a future of growth and continuous enhancement to benefit its users through financial viability and long term vision.
All Sailonline boats and their properties are purely virtual and do not necessarily reflect real world data.
Sailonline is free for everyone to play and is supported by SYC Memberships.
Create your account
News from the blog
Welcome!
Now login with our guest account to view currently running races: Username: guest - Password: guest
PLEASE ONLY REGISTER YOUR OWN USERNAME AND PASSWORD IF YOU INTEND TO RACE.
All times on Sailonline are in UTC

GDPR - General Data Protection Regulations - Sailonline wishes to reassure all SOLers that it is aware of the regulation changes in relation to the protection of personal data. Sailonline cares about your privacy and will continue to let you control the personal information you provide. More info here
click on results image to see larger
GOOD ONYA Kipper1258!!!
CONGRATULATIONS Pit8008!! CONGRATULAZIONI Cippalippa!
Race Leaderboard
Commentary
This race was sailed in the homewaters of the late psail, whose contributions are much appreciated by this site. This particular boat's relatively high speed presented challenges in gybing and rounding corners accurately while keeping performance loss to a minimum. The race course itself included some tricky corners, including the hairpin at Setubal which ended a fair number of attempts.
Luckily for those who made mistakes in their earlier runs, there were several opportunities with 20+ knot winds that would enable competitive times to be set. The last of these opportunities turned out to have the best conditions for a fast run. Most started at around noon UTC on 27 November including second-placed Pit8008. However, a few started 2-4 hours later and got lucky with the 4.30pm Wx change, including third-placed Cippalippa and winner Kipper1258 with a time of just over 6 hours! This win also led Kipper1258 to win the Timed Race series for 2021! Congrats!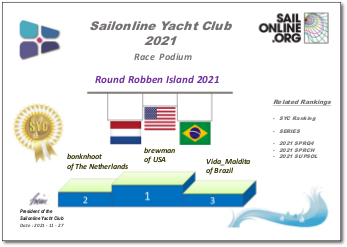 click on results image to see larger
CONGRATULATIONS brewman!!!
GEFELICITEERD bonknhoot!! PARABÉNS Vida_Maldita!
Race Leaderboard
Reports

Commentary
A fresh, atypical warm wind out of the north (we're in the southern hemisphere) welcomed 88 SOLers to Cape Town for our second edition of Sebensa's Round and Round Robben Island race, which turned out be a close one, requiring precise optimum angles work both up- and downwind and a number of well-timed sharp turns at marks in the sea.
Brewman from the USA got it all spot on, to score his very first vctory on SOL, and you can read more about how he went about that in his very thorough report under the buttoned flag above. Well done and thank you, Brewman!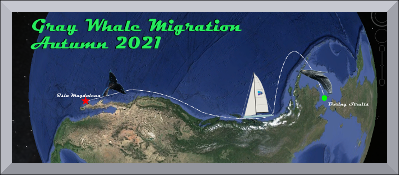 click on image to see larger
Another year and while the populations of whales on our globe continue to be under threat from noise pollution, plastic pollution, illegal fishing and natural predation, there remains a good group of gray whales in the Eastern Pacific, who annually migrate the length of the American western seaboard between their summer feeding grounds around the Aleutian Islands and in the Bering Sea and their winter breeding grounds off Baja California.
First created for Sailonline in 2010, this race celebrates this remarkable life cycle of the Gray Whales by following their route. In 2010 and 2011 we raced from Mexico up to the Bering Sea in late Spring (the mother and calf route), but since then, except in 2017, we have followed the autumn swim south to their warm and shallow breeding grounds in the lagoons off Baja California, and are doing so again this year.
This year also, a special RainbowChaser prize, to honour her creation of this terrific SOL perennial and all her tireless work behind the scenes, has been donated by Leatherman Inc. to be awarded to the SOLer who best outpaces the whales. Most will, as the whales travel at a leisurely 5 knots. But who will be first and win the multi-tool?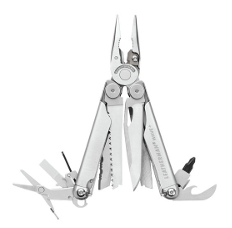 The race opens for practice on Monday, 22 November and will start on Wednesday, 2 December at 1900utc.

Useful Info.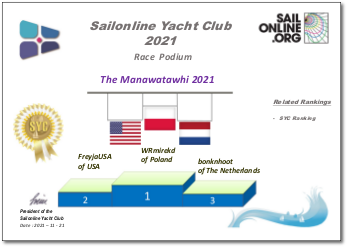 click on results image to see larger
GRATULACJE WRmirekd!!!
CONGRATULATIONS FreyjaUSA!! GEFELICITEERD bonknhoot!
Race Leaderboard
Commentary
Our first ever Manawatahi was not for the faint-hearted. A long downwind leg to the island group also known as the Three Kings, atop New Zealand's North Island, was followed by an equally long beat back to Auckland. Optimum angles, when to sail'm and when not and instead sail hot towards a gybe point or free and fast towards a tack, and how far to stand off from the coast for better breeze or sail into softer wind for better angle were easy to get wrong.
An nearly all did (get it wrong) at some stage, bar WRmirekd, who as always was super-fast, but on this occasion possibly sailed his race of a lifetime, winning by a full 17 minutes ahead of FreyaUSA, who tried a number of divergent tactics to get ahead of our Polish precision pilot, or to put him off his game, but all to no avail. Mighty, Mirek!


Races
Next Race: 00d 00h 00m
---
Current Races:
Cape Town to Port Elizabeth 2021


Welcome back to Cape Town. Our barely-used C2R74 awaits us for a further outing round the cape where the winds and currents of the Atlantic and Indian Ocean meet. It's 400 miles to Port Elizabeth. As always, it will be challenging!
Race #1530
INFOby brainaid.de
C2R74 PARTICULARS
WX Updates:
0430 / 1030 / 1630 / 2230
Ranking:
SYQ4 - SYCCH - SUPSOL - SYC
Race starts: Dec 07th 16:00 Registration Open!

GO TO RACE
Illas Cies Sprint 2021
It is 550nm from Dingle to Vigo, and from Pensacola to Yucatan as well, but at the mouth of Vigo's Ria we find the wonderful nature reserve of the Cies Islands, breeding ground for more than 20,000 doubly-blessed seagulls, doubly-blessed as Vigo is also home to Europe's largest fishing fleet. It rains even more in Vigo than in Dingle, and especially in winter, but let's race anyway, from Vigo's glorious old-world Real Club Nautic around the islands and up the Ria de Pontevedra to Combarro, where you may just espy through the fog bonknhoot's Damacle wintering ashore. About 32nm in magnificent Melges 40s.
Race #1516
INFOby brainaid.de
Melges 40 PARTICULARS
WX Updates:
0430 / 1030 / 1630 / 2230
RANKING:
SPRQ4 - SPRCH - SUPSOL - SYC
RACE CLOSE: Wednesday,
8 December at 2300 UTC
RACE CLOSE: Wednesday,
December 8 at 2300 UTC.
Race starts: Dec 04th 16:00 Registration Open!

GO TO RACE
Gray Whale Migration 2021
As temperatures begin to drop in the northern hemisphere, Eastern Pacific Gray Whales, who have spent the summer months in the nutrient rich feeding grounds of the Bering Sea, begin to make their way south to their winter home in the warm conditions off the coast of Mexico. We will be joining them for their 3,886nm migration in our 90ft monohull.
Race #1523
INFO by brainaid.de
90ft Monohull PARTICULARS
WX Updates:
0430 / 1030 / 1630 / 2230
Ranking:
SYC
Race starts: Dec 02nd 19:00 Registration Open!

GO TO RACE
Christmas Is (Pac) to Christmas Is (Ind) 2021
Welcome to Sailonline's annual festive season race for Christmas 2021! This year we will be racing our fabulous VO70_v4 the 5,827nm from Christmas Island in the Pacific to Christmas Island in the Indian Ocean. All islands between our start and finish, including the "island" of Australia are in play so enjoy whichever route you choose!
Race #1522
INFO by brainaid.de
VO70_v4 PARTICULARS
WX Updates:
0430 / 1030 / 1630 / 2230
RANKING:
OCQ4 - OCCH - SUPSOL - SYC
Race starts: Dec 01st 03:00 Registration Open!

GO TO RACE
Return from Lindisfarne 2021
Having re-enacted the Swedish Vikings raid on Lindisfarne of 793 AD earlier this month, we must now return. The good land, the (slightly) shorter winters and the comely Saxon maidens tempted our predecessors to linger, but we may not stay and must cross the North Sea before the weather breaks. Fair winds, oh Njord, we pray of you, for our longships on this 465nm voyage.
Race #1526
INFOby brainaid.de
Longship Drake PARTICULARS
WX Updates:
0430 / 1030 / 1630 / 2230
Ranking: SYC
RACE CLOSE: Monday,
December 6 at 2300 UTC.
Race starts: Nov 25th 16:00 Registration Closed

GO TO RACE
CCA Delivery Cruising 2021 - Newport to Antigua


Welcome to Sailonline's last virtual cruise of 2021. Departing our sheltered moorings in Newport RI, we are now off to Antigua, via Bermuda some 1572nm distant. You may start at any time after 1800utc on 24 November, to arrive in English Harbour, Antigua before 1800utc on 24 December.
Race #1510
INFO by brainaid.de
Santa Cruise 52 PARTICULARS
Passport Cruise 40 PARTICULARS
WX Updates:
0430 / 1030 / 1630 / 2230
RANKING: NONE
Race starts: Nov 24th 18:00 Registration Open!

GO TO RACE
SYC Ranking
Series
Mobile Client
SYC members have the benefit of access to our mobile/lightweight web client!