Online Sailracing!
Sailonline.org is owned and operated by Sailonline NavSim AB, a not for profit, community-owned company.
Sailonline's mission is to offer a superior internet-based sailing and navigation simulation to the global sailing community, whilst ensuring a future of growth and continuous enhancement to benefit its users through financial viability and long term vision.
Sailonline is free for everyone to play and is supported by SYC Memberships.
Create your account
News from the blog
Welcome!
Now login with our guest account to view currently running races: Username: guest - Password: guest
PLEASE ONLY REGISTER YOUR OWN USERNAME AND PASSWORD IF YOU INTEND TO RACE.
All times on Sailonline are in UTC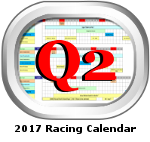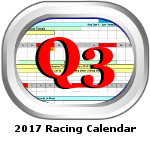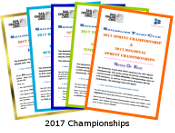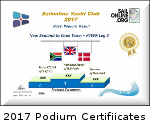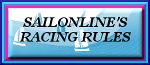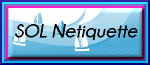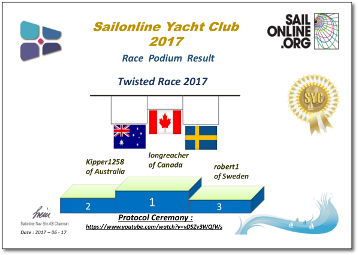 click on results image to see larger
CONGRATULATIONS longreacher!!!
GOOD ONYA Kipper1258!! GRATTIS robert1l!
Race Leaderboard
Commentary
Billed as a 22nm sprint from Plymouth to Fowey, we all knew that there was a strong possibility that Sailonline's known ability to make wind vanish could come into play. The forecasts were reasonable but easing so it wasn't a surprise to find ourselves starting in light winds. Several SOLers flipped coins and decided to race anyway and we all looked to AIS in case we could spot Boat44 and Tiderace II on their fundraising mission.
Some 10hrs later our podium managed to snag the top three spots, and all told 16 boats arrived at the finish within 10mins of the winner., while a total of 102 boats flying the flags of 29 nations took part.
Congratulations podium and thank you to everyone racing in this first-in-a-while unranked event.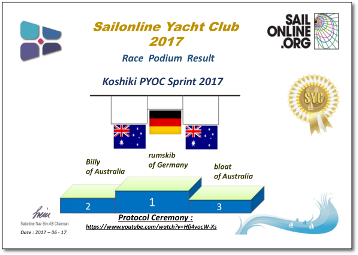 Race Leaderboard
HERZLICHEN GLÜCKWUNSCH rumskib!!!
GOOD ONYA Billy!! GOOD ONYA bloat!
Commentary
This created-for-sprinting PYOC course has been raced a couple of times before. The first running, in 2015 saw 107 starters and at the finish just 60 seconds separated the top 34 racers. In 2016 the course was run again, fewer participants, but again a pretty close finish. This time out it was a slow-ish start from both a numbers and a racing perspective, which meant that late-comers had a good opportunity to do reasonably well and there were considerable gaps between small groups of finishers. The new regional timing for sprints is beginning to pay off as a few more participants from the timezone of the race could be seen in the boatlist.
Congratulations to our podium for getting it right-er than everyone else! Nicely done, guys!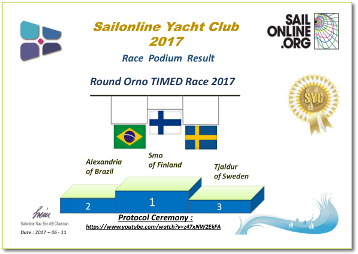 Race Leaderboard
ONNEKSI OLKOON Smo!!!
PARABÉNS Alexandria!! GRATTIS Tjaldur!
Reports

Commentary
The Ornö runt is a well-established yacht race in Sweden, raced usually towards the end of May, so Sailonline's version of this event, raced as a TIMED race this time, was not too far adrift in time from the real event. With the choice of the Mini 6.50 as our boat this year, there was going to be no chance of record-beating – until 2014 Sailonline always raced this course in the brilliant Seacart 30 as a fast-paced Swedish archipelago "mayhem" event, but since 2014 the SRC has forgone record-breaking in favour of our trialling different boats on-course. The winds were pretty decent this year, but there really was only one opportunity for success, on 7 June, and the top 39 yachts all started during the morning of that day. Our podium three started within 18mins of each other with our winner, Smo, actually starting latest of the three! Many congratulations to all in our top spots!

Races
Next Race: 00d 00h 00m
---
Current Races:
A3 2016 - Leg 9 - Perth to Adelaide
SOL's gift to AGage's memory is the A3 - Agage's Around Australia Series. This race is Leg 9, the last in the series - a race of 1300nm in VO70v4s from the appropriately named Gage Roads off Fremantle to Adelaide. Let us race with Aaron's spirit back to Adelaide.
Race #1060
INFO by brainaid.de
VO70v4 Particulars
WX Updates: 0430 / 1030 / 1630 / 2230
Ranking: A3/SYC
ALT. CLIENTClassic
Race starts: Jun 25th 10:00 Registration Open!
GO TO RACE
2017 40' Series Championship Q1&Q2 Singapore Visit
It's time for the sixth of six races in the 40' Q1 and Q2 Championship!
Welcome to Indonesia and a 365 NM race in one of the 40' available for your choice, from the Island of Natuna Besar to Singapore Harbor. This regatta is based on the course of the Singapore In-Port race back in 2009.
DON'T RISK DISQUALIFICATION!
There are three boat designs to choose from and each one may NOT be used more than twice during the six race Series, according to the NORof the series
The three boat designs are:
40' Particularsand their official polars are here, just recently uploaded by "sailonline":
40' Polars(as a zip file)
IMPORTANT:
Before you choose the boat design, log in with the "Guest" boat (Username=guest/Password=guest) so you can view the predicted winds to help you choose the best boat/polar for the upcoming race. Once you have chosen to register a boat design for this race, it cannot be undone!
REMEMBER:
Choosing the same boat design more than twice will get you disqualified from this race!!
View this list to see what boats you've already used:
USED BOATS
Race # 1059
INFOfrom brainaid.de
WX Updates:
0430 / 1030 / 1630 / 2230
Ranking:
40Q1&2CH –SYC
ALT. CLIENT:Classic
Race starts: Jun 23rd 02:00 Registration Open!
GO TO RACE
Red Dot 2017 - Leg 3 - Alaska to San Francisco
Inspired by Matt Rutherford's single handed circumnavigation of the Americas, and proposed by SOLer Renegade, Sailonline is racing the course in 5 legs. This is Leg 3 - 2,954nm from Barrow, Alaska to San Francisco, California.
Race #1030
INFO by brainaid.de
SuperMaxi 100 Particulars
WX Updates:
0430 / 1030 / 1630 / 2230
RANKING: OCCH - OCQ2 - SUPSOL - RedDot - SYC
ALT. CLIENT: Classic
PRIZE: SMPF
Race starts: Jun 11th 18:00 Registration Open!
GO TO RACE
SYC Ranking
Series
Mobile Client
SYC members have the benefit of access to our mobile/lightweight web client!