Online Sailracing!
Sailonline.org is owned and operated by Sailonline NavSim AB, a not for profit, community-owned company.
Sailonline's mission is to offer a superior internet-based sailing and navigation simulation to the global sailing community, whilst ensuring a future of growth and continuous enhancement to benefit its users through financial viability and long term vision.
All Sailonline boats and their properties are purely virtual and do not necessarily reflect real world data.
Sailonline is free for everyone to play and is supported by SYC Memberships.
Create your account
News from the blog
Welcome!
Now login with our guest account to view currently running races: Username: guest - Password: guest
PLEASE ONLY REGISTER YOUR OWN USERNAME AND PASSWORD IF YOU INTEND TO RACE.
All times on Sailonline are in UTC
GDPR - General Data Protection Regulations
- Sailonline wishes to reassure all SOLers that it is aware of the regulation changes in relation to the protection of personal data. Sailonline cares about your privacy and will continue to let you control the personal information you provide.
The Brisbane to Keppel Tropical Yacht Race is the signature offshore race of Royal Queensland Yacht Squadron and 2020 sees Sailonline once again being RQ's virtual partner for offshore racing for this 14th anniversary running of this iconic event.
The Brisbane to Keppel Race is a major feeder race for yachts heading up to Hamilton Island for Race Week in August and this year's star-studded Entry List reveals a special entry.
Yacht "Envy Scooters", a TP52 owned and skippered by RQYS Commodore Barry Cuneo. Sailonline will be racing a virtual TP52 so see if you can beat the Commodore to Keppel.
Once around Breaksea Spit at the top of Fraser Island, be on good look out for small reefs and islands that can catch out even those familiar with these waters. If you are using a router, do remember to zoom in as many of these smaller BBQ opportunities are only findable when at max zoom – this is all good experience for real-life navigation too, as the "Vestas Incident" reminds us. The real race boats will be staying south of Lady Elliot, Polmaise Reef and Great Keppel Island for this very reason.
The Sailonline race will start on Friday, 31 July at 0100utc and will open for registration and pre-race practice on Sunday 26 July.
Entry is free to everyone. All virtual yachts are equal with the only difference being you, the navigator.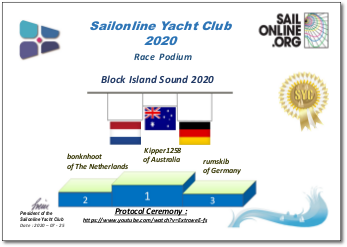 click on results image to see larger
GOOD ONYA Kipper1258!!!
GEFELICITEERD bonknhoot!!
HERZLICHEN GLÜCKWUNSCH rumskib!
Race Leaderboard
Reports
Commentary

After several days of very light variable winds, a gentle F3 breeze managed to establish itself on race day, giving competitors a pleasant downwind-only trip to Stonington Harbor. With our MC38s hitting 9kn through the water, keeping the gybes to a minimum and hunting pressure were perhaps the secret to success, and the returning rumskib's and magnificent Musigny's reports (under the buttons above) tell what was on, in excellent detail.
However, crossing the line, it was Australia's Kipper1258 who took the honours, approximately 1 server hop ahead of rumskib and bonknhoot, separated by 1 sec. A fine rounding of the mark in West Harbor certainly helped our cobber. Very brave and daring!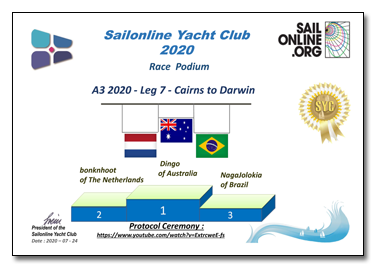 click on results image to see larger
GOOD ONYA Dingo!!!
CONGRATULATIONS bonknhoot!! PARABÉNS NagaJolokia!
Race Leaderboard
Reports

Commentary

Good winds, at least until the final day, and a fast trimaran saw the fleet make excellent time up through the northern sections of The Great Barrier Reef, through the Torres Strait and west across the Arafura Sea. It was great to see a large fleet and many new SOLers from around the world, particularly the USA. A warm welcome to you all.
In a very tight finish, local Dingo just held off bonknhoot with NagaJolokia close behind. For this race, bonknhoot has provided an excellent and detailed report so check it out. We hope to see you all back for more racing. Check the calendar for details.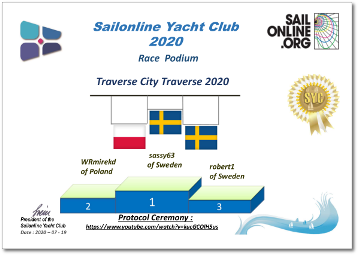 click on results image to see larger
GRATTIS sassy63!!!
GRATULACJE WRmirekd!! GRATTIS robert1!
Race Leaderboard
Commentary
Designed in 2016 by SOLer A2, a "local", and raced then, this was only the second time this challenging twisty course has been raced on Sailonline. Set in the wilds of Upper Lake Michigan, providing a wealth of out-of-the-way beaching spots for the perfect lakeside bbq, this was as much, if not more, fun than its first running! The leading group raced on, while those further back were able to steer their brilliant 66 footers into successive match-races – some declared publicly, others treasured as personal triumphs!
Congratulations must go to our podium for their success – for all those who regularly race in the short pre-race practice races, it is fun to see two regulars taking two of the three top spots. With a fleet flying the flags of 38 different nations and only 35s between 1st and 2nd and 44s between 2nd and 3rd this was a close finish – nicely done guys!
Don't forget - if this was your first time racing on the Great Lakes, you can begin to build towards the Great Lakes Sailonline Honours Badge. All information about Sailonline Honours Badges can be foundhere .



<
Races
Next Race: 00d 00h 00m
---
Current Races:
Round White Island 2020
This classic New Zealand race is run each year and takes the yachts from Auckland and, after rounding Channel Island, down south to the Bay of Plenty, around the active volcano on White Island, and back to Auckland. Racing RC 44s, who will be first to complete SOL's 292nm course?
Race #1374
Info by brainaid.de
RC 44 Particulars
WX Updates:
0430 / 1030 / 1630 / 2230
RANKING:
SYCCH - SYCQ3 - SUPSOL – SYC
ALT. CLIENT: Classic
Race starts: Aug 07th 20:00 Registration will open soon
New HTML5 Client GO TO RACE
Maryland to Alaska 2020
Inspired by Matt Rutherford's single-handed Red Dot Expedition around the Americas in 2012, SOLer Renegade proposed a half around from Maryland over the North into the Pacific and back through the Panama Canal, in 5 legs, 5 years later. Leg 2 across the North West Passage proved to be particularly challenging and so to create a proper Ocean Race, SRC has combined Leg 2 with Leg 1 to give you a race of at least 4000nm from Maryland to Alaska in our magnificent 90ft Monohull.
PRIZE: SMPF
Race #1366
INFOby brainaid.de
90ft Monohull Particulars
WX Updates:
0430 / 1030 / 1630 / 2230
Ranking:
OCCH - OCQ3 - SUPSOL - SYC
ALT. CLIENT: Classic
Race starts: Aug 04th 20:00 Registration Open!
New HTML5 Client GO TO RACE
SSANZ Triple Series 2020 - Lewmar 100 Baltic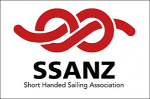 Welcome back to Auckland for the second of three races in this year's SSANZ two-handed series, raced around the waters of the Hauraki Gulf off the E coast of New Zealand's North Island. Our direct competitors in this 2020 Lewmar 100 Baltic course are, again, the real racers of the Young 88 Association.
Race #1377
INFO from brainaid.de
Young 88 Particulars
WX Updates:
0430 / 1030 / 1630 / 2230
Ranking:
SSANZ 2020 - SYC
ALT. CLIENT Classic
Race starts: Jul 31st 21:15 Registration Closed
New HTML5 Client GO TO RACE
Brisbane to Keppel Tropical Yacht Race 2020

When the winter weather turns cool in southern Australia sailors head up to the warmer tropics. Every year in August sailors from all over the world make their way to The Great Barrier Reef for the big winter regattas at Hamilton Island, Airlie Beach and Magnetic Island. What better way to get there than to race to the reef. This year Sailonline is joining with the racers from
RQYS to race the 343 nautical miles from Brisbane to Keppel Island in our TP52s. It might be winter downunder but all you will need is shorts and t-shirts.
Race #1367
INFO
by brainaid.de
TP-52
Particulars
WX Updates:
0430 / 1030 / 1630 / 2230
Ranking: SYC
ALT. CLIENT:
Classic
RACE CLOSE:
Friday,
August 7 at 2300 UTC.
Race starts:
Jul 31st 01:00
Registration Open!
New HTML5 Client
GO TO RACE
The Tall Ships Races 2020 - Race 3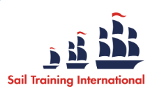 Welcome to the third and last of our races in this year's European Tall Ships Races - a race of 642nm from A Coruna, Spain to Dunkirk France
NOTE:Starts and Finishes in tall ships racing are always offshore to avoid conflict with shipping and shipping lanes.
Race #1361
INFO by brainaid.de
Clipper 240 Particulars
WX Updates:
0430 / 1030 / 1630 / 2230
RANKING: TSE - SYC
ALT. CLIENT: Classic
RACE CLOSE: Thursday, 6 August at 2300utc
Race starts: Jul 27th 12:00 Registration Closed
New HTML5 Client GO TO RACE
SYC Ranking
Series
Mobile Client
SYC members have the benefit of access to our mobile/lightweight web client!