Online Sailracing!
Sailonline.org is owned and operated by Sailonline NavSim AB, a not for profit, community-owned company.
Sailonline's mission is to offer a superior internet-based sailing and navigation simulation to the global sailing community, whilst ensuring a future of growth and continuous enhancement to benefit its users through financial viability and long term vision.
Sailonline is free for everyone to play and is supported by SYC Memberships.
Create your account
News from the blog
Welcome!
Now login with our guest account to view currently running races: Username: guest - Password: guest
PLEASE ONLY REGISTER YOUR OWN USERNAME AND PASSWORD IF YOU INTEND TO RACE.
All times on Sailonline are in UTC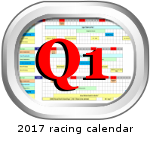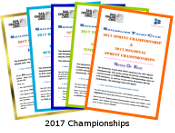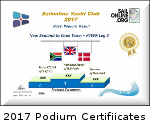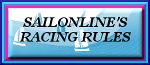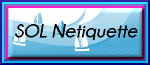 It is never to early to start preparing for the annual fire festival in Shetland - Up Helly Aa is on 31 January this year and the Sailonline race starts on Sunday, 29 January at 1000utc.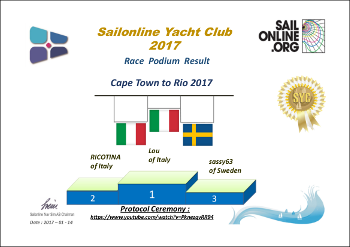 click on results image to see larger
CONGRATULAZIONI Lou!!!
CONGRATULAZIONI Ricotina!! GRATTIS sassy63!
Race Leaderboard
Reports


Commentary
Sailonline was designed as an ocean-racing navsim and so it is in these long ocean events that our virtual platform comes into its own. The ability to read the winds, with or without benefit of router suggestions, and perhaps some degree of luck (although luck always seems to go hand in hand with application to a task!), means that our ocean races really are a true challenge for all who participate. Whether you wake for every weather update or take a more pragmatic approach, Sailonline's ocean races give all of us the opportunity to get a sense of what is involved in reality.
To be on the podium of any SOL race is a tribute to skill and perserverence, but to arrive at the end of a two- or three-week ocean race in one of the top spots is remarkable. Our podium are to be fêted for their tremendous success this time! Bravo guys!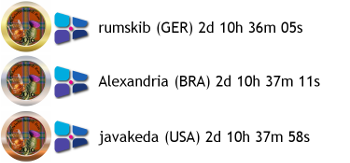 click on results image to see larger
HERZLICHEN GLÜCKWUNSCH rumskib!!!
PARABÉNS Alexandria!! CONGRATULATIONS javakeda!
Race Leaderboard
It has been a few years since Sailonline raced from Plymouth to Islay in the Midwinter Scotch Run, a race designed by SOLer CG at the behest of one of SOL's founders, Jakob, to bring some light-hearted competition to the serious business of racing and coping with the Northern Hemisphere winter and its often very gloomy days and harsh weather. The west coast of mainland UK and its waters are tricky at the best of times – it is the first to receive any weather systems off the Atlantic – and the channel provided by the Irish Sea can create truly maelstrom conditions. SOLers of course are, mostly, comfortably ashore and warm and safe but watching the darkening wind arrows, turning from red to purple (denoting increasing to gale strength) gives one a small sense of what it is like.
The competition was fierce this year, and it was great to see several long-term SOLers return for the event – chat was animated and it really did feel as if we were racing our trusty Beneteau Figaros to a party! The entire top 10 are to be congratulated on an excellent race, but the true honours belong to our podium three who arrived within a couple of minutes of each other. Congratulations guys!
Reports



Races
Next Race: 00d 00h 00m
---
Current Races:
2017 40' Series Championship Q1&Q2 Sardinia Cup
Welcome to the first of six races in the 40' Q1 and Q2 Championship!
READ THIS CAREFULLY !!
You'll have three boat designs to choose from and each one must be chosen two times during the next 6 months according to the NORof the series
The three boat designs can be seen in:
40' Particulars
IMPORTANT:
Before you choose the boat design log in with the "Guest" boat (Username=guest/Password=guest) so you can view the predicted winds to help you choose the best boat/polar for the upcoming race. Once you have chosen to register a boat design for this race, it cannot be undone!
Race # 1009
INFOfrom brainaid.de
WX Updates:
0430 / 1030 / 1630 / 2230
Ranking:
40Q1&2CH –SYC
ALT. CLIENT:Classic
Race starts: Jan 23rd 10:00 Registration Open!
GO TO RACE
A3 2016 - Leg 6 - Airlie Beach to Cairns
SOL's gift to AGage's memory is the A3 - Agage's Around Australia Series. This race is Leg 6 of the series - a 295nm sprint in SeaCart 30 Trimarans from Airlie Beach, inside the Great Barrier Reef up to Cairns.
Race #1005
INFO by brainaid.de
Seacart 30 Particulars
WX Updates:
0430 / 1030 / 1630 / 2230
Ranking: A3 - SYC
ALT. CLIENT:Classic
Race starts: Jan 18th 10:00 Registration Open!
GO TO RACE
Kerguelen CanCan TIMED Race 2017
Race your VO70v4 in a 105nm TIMED race in the Southern Ocean through Captain Cook's Desolation Islands, once more. You may win! But can you beat hmm's record time of 4:13:09 set in 2013?
RE-REGISTER HERE to race again after finishing a run
Race #1007
INFO by brainaid.de
VO70v4 Particulars
WX Updates:
0430 / 1030 / 1630 / 2230
RANKING:
TRCH-SUPSOL-TRQ1-SYC
ALT. CLIENT: Classic
RACE CLOSE:Sunday 22 January at 2300utc
Race starts: Jan 13th 10:00 Registration Open!
GO TO RACE
Cape Town to Rio 2017
Welcome to SOL's 2017 and 3rd edition of this race.
See how quickly you can steer your OD65v3 the 3273nm from Cape Town, South Africa, to Rio de Janeiro, Brazil!!
Race #1004
INFO by brainaid.de
OD65v3 Particulars
WX Updates:
0430 / 1030 / 1630 / 2230
Ranking:
OCCH – OCQ1 – SUPSOL - SYC
PRIZE: SMPF
ALT. CLIENT: Classic
RACE CLOSE: Sunday, 22 January at 23:00utc.
Race starts: Jan 02nd 12:00 Registration Closed
GO TO RACE
SYC Ranking
Series
Mobile Client
SYC members have the benefit of access to our mobile/lightweight web client!