Online Sailracing!
Sailonline.org is owned and operated by Sailonline NavSim AB, a not for profit, community-owned company.
Sailonline's mission is to offer a superior internet-based sailing and navigation simulation to the global sailing community, whilst ensuring a future of growth and continuous enhancement to benefit its users through financial viability and long term vision.
All Sailonline boats and their properties are purely virtual and do not necessarily reflect real world data.
Sailonline is free for everyone to play and is supported by SYC Memberships.
Create your account
News from the blog
Welcome!
Now login with our guest account to view currently running races: Username: guest - Password: guest
PLEASE ONLY REGISTER YOUR OWN USERNAME AND PASSWORD IF YOU INTEND TO RACE.
All times on Sailonline are in UTC

GDPR - General Data Protection Regulations
- Sailonline wishes to reassure all SOLers that it is aware of the regulation changes in relation to the protection of personal data. Sailonline cares about your privacy and will continue to let you control the personal information you provide. More info
here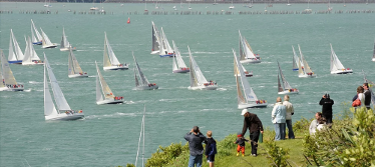 Welcome to the PIC Coastal Classic Yacht Race 2020 - one of New Zealand's iconic yacht races up the E coast of North Island, from Auckland to the harbour at Russell. Originally raced by speedboats in the 1920s, aiming at speed records, the yacht race, now a classic in it's own right, was first conceived in the 1980s by a member of the Auckland Multihull Sailing Association who wanted to recapture the historic course. The event is, of course, now raced in classes – Multihull, Monohull and Cruising – and continues to have a wide range of prizes on offer, not just for division winners, but for seamanship and even for the littlest boat to finish!
Sailonline is delighted once again to be hosting the virtual version of the "Coastal Classic", sponsored as always by PIC, and we shall again be racing our trusty 60ft Trimaran, which should keep us reasonably competitive with the IRL Multihull racers. The virtual race will open for practice on 17 October 2020 at 2100utc to allow ample time for friends and family of IRL racers to find us and learn how to compete on our platform.
Entrants
Race Tracker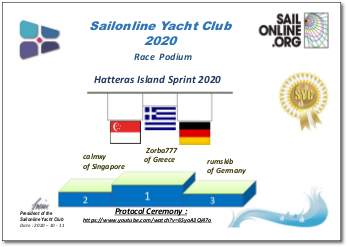 click on results image to see larger
ΣΥΓΧΑΡΗΤΉΡΙΑ Zorba777!!!
CONGRATULATIONS calmxy!!
HERZLICHEN GLÜCKWUNSCH rumskib!
Race Leaderboard
Reports


Commentary
Well that was fun! With only a light and dying underlying synoptic southerly zephyr, wrf modelled us some considerable variation in direction, which one suspects erven the best routing software in the world would have had difficulty analysing 100% correctly, and so it was 'seat-of-the-pants' supported or not by a router, that undoubtedly won the day. Thus, as we headed south west, tacking regularly to keep close to the Hatteras inshore beach, the wind, initially anti-clocking slowly, reversed completely and as we turned the western tip of the island, we were gybing and hardening up onto another beat this time north east and out to sea, for the wind to reverse entirely again, making the eastern end of the line quite favoured, and just about lay-able without putting in an extra gybe.
Read Satori's expansive report and Zorba777's slightly shorter but well-illustrated one under the buttons above. Extraordinary stuff, and apart from deciding how often to tack to hug the beach, judging when to tack and how to curve to your lay-points whilst easing sheets proved quite a challenge, which on this occasion Zorba777 managed best of all for his premier first on Sailonline, just pipping calmxy, who had led for much of the race, with the redoubtable rumskib coming in third. A very fine podium!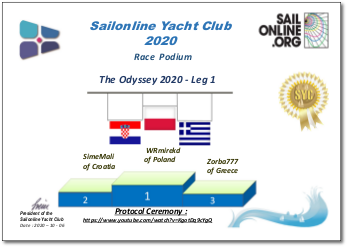 click on results image to see larger
GRATULACJE WRmirekd!!!
ČESTITAMO SimeMali!! ΣΥΓΧΑΡΗΤΉΡΙΑ Zorba777!
Race Leaderboard
Reports

Commentary
A light moderate breeze out of the south greeted the 134 SOLers that lined up off Troy for the first leg of Sailonline's re-enactment of The Odyssey, in slightly anachronistic, but nevertheless also very ancient triremes, with polars modelled on the performance of the Hellenic Navy's replica vessel, the Olympia. An excellent report under the azure blue button above by Zorba777, the man who caused us all those virtual blisters and bumps as we mostly rowed our way around the course, after having passed the first and only mark of the course off Cape, gives a good account of what went on thereafter, and his inspiration – including several hyperlinks – behind the entire project!
Suffice to say here, that our new Trireme's polar is a tricky thing, challenging routing programs and seat-off-the pants sailors equally as to when to sail and when to row, and then when rowing, best at what optimum angle to the wind, and more generally, straight to the next cape or headland, or more subtly towards some point where you might hoist the sail again. In the end, best solver of these conundrums proved to be Poland's WRmirekd, although SimeMali ran him close, and the man himself, Zorba777, at the death nearly gave them both a fright! More fun and myths and legends on the 2tth of October. Come all!

2020 Q3 SRC Report
Whilst the pandemic has declined in most western countries this is not the case across the World and indeed in some countries it has come back as a second spike. It would seem that at least northern latitude countries are not clamouring for replacement virtual races from SOL or, if they are, they are fitting into our existing offerings where we have seen increased participation. Or they may just be laying up their yachts for the winter.
Turning now to the results for the Series racing in 3rd Quarter they were as follows. Ocean Series. With our three races for this Series – 'Auckland to Uruguay', 'Maryland to Alaska' and 'Melbourne to Osaka' we took our sailors twice to the Southern Ocean with a sail over the top of Canada in the middle.
The Auckland race formed part of our Round the World Series in our 125' catamaran this time over about 23,500 nautical miles. We offered the sailors a chance to navigate the inner channels at the tip of South America and many yachts took up this invitation. This race was won by SimeMali with NagaJolokia chasing him and Leelu22 in third.
The saunter over the top of Canada proved to be a light air affair much of which was on the nose in our 90' monohull. The race was … Report continues here
Q3 Championship Results and Prizes
Races
Next Race: 00d 00h 00m
---
Current Races:
Two Oceans Doublecross 2020
This race was first designed for Sailonline in 2010 by SOLer Jawz, and now, ten years on, we again invite you to sail our Fox 9.50s the 185nm around Cape Point and twice over the imaginary line demarcating the meeting of the Atlantic and Indian Oceans. Count the number of wrecks of previous vessels both old and new that underestimated the fury of the Cape of Storms! Celebrate your survival at the Tavern of the Seas.
Race #1403
INFO by brainaid.de
Fox 9.50 PARTICULARS
WX Updates:
0430 / 1030 / 1630 / 2230
Ranking: SYC
ALT. CLIENT:Classic
Race starts: Oct 29th 16:00 Registration will open soon
HTML5 Client (beta) GO TO RACE
Sailonline's South China Sea Classic 2020
Welcome to the South China Sea and a fun downwind course of 366nm in TP52s from Lantau Island, Hong Kong to the island of Hainan in southern China.
Race #1402
INFO by brainaid.de
TP-52 PARTICULARS
WX Updates:
0430 / 1030 / 1630 / 2230
RANKING:
SYCQ4 - SYCCH - SUPSOL -SYC
ALT. CLIENT: Classic
Race starts: Oct 23rd 03:15 Registration Open!
HTML5 Client (beta) GO TO RACE
PIC Coastal Classic Yacht Race 2020


Kia Ora tatou! Hello everyone and welcome to Auckland on New Zealand's North Island and our annual competition against the racers of the NZ Multihull Yacht Club in the 118nm run from Auckland to Russell in our 60ft trimarans. With endlessly varying conditions, this race up North Island's E Coast can see flat out spinnaker rides, speedy reaching and even dying breezes before sunrise! As always, arriving yachties will find a traditional welcome of bacon butties and rum.
Race #1400
INFO
by brainaid.de
60ft trimaran
PARTICULARS
WX Updates:
0430 / 1030 / 1630 / 2230
Ranking: SYC
ALT. CLIENT:
Classic
Race starts:
Oct 22nd 21:00
Registration Open!
HTML5 Client (beta)
GO TO RACE
Uruguay to Cascais - 2020 RTW - Leg 4
The last leg of Sailonline's Round the World Race 2020 takes racers from Punta del Este, deep in the South Atlantic, to Portugal's Cascais on the North Atlantic seaboard. More than 5000nm of almost only open water, bar three easily avoidable, well-known island groups and Fernando de Noronha and Madeira, in our much-loved Orange 125ft catamaran for your leisurely enjoyment of only wind, wind and wind and maybe some wine, chat and cheese!
PRIZE: SMPF
Race #1399
INFO from brainaid.de
Orange 125ft Particulars
WX Updates:
0430 / 1030 / 1630 / 2230
Ranking: OCQ4 - OCCH - SUPSOL - SYC - RTW20
ALT. CLIENT:Classic
RACE CLOSE: Thursday,
October 29 at 2300 UTC.
Race starts: Oct 02nd 20:00 Registration Closed
HTML5 Client (beta) GO TO RACE
SYC Ranking
Series
Mobile Client
SYC members have the benefit of access to our mobile/lightweight web client!