Online Sailracing!
Sailonline.org is owned and operated by Sailonline NavSim AB, a not for profit, community-owned company.
Sailonline's mission is to offer a superior internet-based sailing and navigation simulation to the global sailing community, whilst ensuring a future of growth and continuous enhancement to benefit its users through financial viability and long term vision.
All Sailonline boats and their properties are purely virtual and do not necessarily reflect real world data.
Sailonline is free for everyone to play and is supported by SYC Memberships.
Create your account
News from the blog
Welcome!
Now login with our guest account to view currently running races: Username: guest - Password: guest
PLEASE ONLY REGISTER YOUR OWN USERNAME AND PASSWORD IF YOU INTEND TO RACE.

GDPR - General Data Protection Regulations - Sailonline wishes to reassure all SOLers that it is aware of the regulation changes in relation to the protection of personal data. Sailonline cares about your privacy and will continue to let you control the personal information you provide. More info here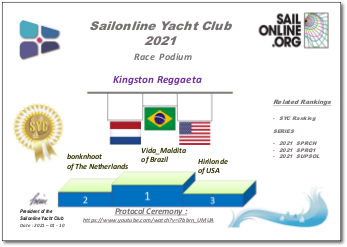 click on results image to see larger
PARABÉNS Vida_Maldita!!!
GEFELICITEERD bonknhoot!! CONGRATULATIONS Hirilonde!
Race Leaderboard
Commentary
The 2021 Sprint Series got away in fair winds and pleasant winter tropical weather from Jamaica's West Indies Yacht Club line out on Old Harbour Bay. A reach out to Portland Cay and back to Pigeon Island kept the fleet close together, but from Pigeon Island it was upwind all the way to the turn at Lime Cay for the Port Royal finish line.
With the wind slowly backing north, judging how free to sail into the heading and dying breeze for a series of tacks along the Hellshire coast was the key to taking the lead and it was Brazil's Vida_Maldita who read it best, to hold off all challengers short tacking under shore and on the freeing lay for Lime Cay, for his first first on SOL and a proper reggae-reggae party in Kingston Town!

click on results image to see larger
GRATULACJE WRmirekd!!!
FELICIDADES rafa!! PARABÉNS NagaJolokia!
Series Leaderboard
Commentary
The 2020 Tasman Double series was a marvellous opportunity for real sailors unable to get on the water to experience the challenges of racing from Sydney to Tasmania and "ferrying" (also racing) back again! The waters of Australia's SE Coast can be challenging at the best of times, with the currents and winds channelling through the Bass Strait and mixing with conditions from the Pacific. The race to Tasmania was awesomely fast – probably one of the speediest in Sailonline's history – while the return trip needed tactics aplenty to produce a top result. Click on the thumbnails of each Leg podium above to read the Results Blogs and reports for each race!
As ever, our congratulations and admiration to those who top our mini-series podium – to win any race in Sailonline is an achievement, but to win a series, however small, is at least doubly so! Well done to all!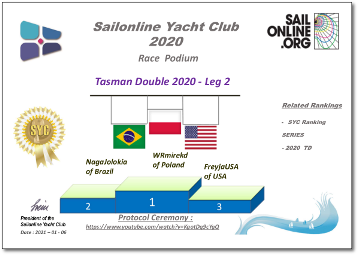 click on results image to see larger
Gratulacje WRmirekd!!!
PARABÉNS NagaJolokia!! CONGRATULATIONS FreyjaUSA!
Race Leaderboard
Reports
Commentary
After racing from Sydney to Hobart, it was time for Sailonine's racers to ferry their boats back "home" but, there is never any such thing as ferrying in Sailonline – it is (almost) always a race! The second leg of our Tasman Double mini-series was another excellent race – not quite as speedy as the arrival in Hobart, but positions were fought for as fiercely as ever!
A total of 39 nations were represented in this year's race and our podium three, from Poland, Brazil and USA are to be congratulated on leading the fleet into Sydney Harbour to complete Sailonline's first race of 2021!

2020 has been a challenging year for the World and for those of us seeking relaxation and a challenge by participating in virtual yacht racing, that we pursue for a variety of reasons.
Below SRC gives the result for the 2020 Season Championships. Once again, my thanks are due to Piero/WINSTON_4 for his exemplary work in compiling these results and then in issuing the numerous certificates and managing and posting the associated medals around the world.

Races
Next Race: 00d 00h 00m
---
Current Races:
Boston to Newport TIMED Race 2021
Last raced as part of the 2018 40 footer series, we return to Boston for another race to Newport. However, instead of choosing a boat for a given start time, you get to choose a start time for the given boat choice of the speedy R/P 66! How quickly can you complete this  132nm run? 
RE-REGISTER HERE to race again after finishing a run. 
Race # 1430
INFO by brainaid.de 
R/P 66 PARTICULARS
NAM_AWIP WX Updates:
0245 / 0845 / 1445 / 2045
Ranking:
TRQ1 - TRCH - SUPSOL - SYC
RACE CLOSE: Sunday, 31 January at 23:00 UTC
Race starts: Jan 18th 12:00 Registration Open!
Old Flash Client GO TO RACE
Adriano's Brazil Run 2021
Adriano, who sails the SOLship batatabh, together with all his Brazilian friends bids you welcome to this amazing 300nm race in SOL's Albin 79 along their country's beautiful coastline. The race starts in Guanabara Bay, mistakenly considered a river mouth by its first explorers in January 1502, resulting in the settlement on its shore being named January's River (Rio de Janeiro). After passing Rio's iconic Sugar Loaf, the course takes racers along the north coast of the beautiful Ilha Grande to a turn for home at Ilhabela (another 'beautiful island') and a finish off the famous Copacabana beach!
Race #1416
INFO by brainaid.de
Albin 79 PARTICULARS
WX Updates:
0430 / 1030 / 1630 / 2230
Ranking:
SYQ1 - SYCCH - SUPSOL - SYC
RACE CLOSE: Friday,
January 22 at 2300 UTC.
Race starts: Jan 13th 16:00 Registration Closed
Old Flash Client GO TO RACE
Foiling Wellington to Ushant 2021
Time to don full weather gear and put the foot down as we race Sailonline's new foiling Imocas over the 11200nm from Wellington NZ to Ushant, France! We will cross two oceans, round Cape Horn, and try to stay on the foils through the notorious highs of the south and north Atlantic Oceans.
Race #1420
INFOby brainaid.de
IMOCA 60 foil PARTICULARS
WX Updates:
0430 / 1030 / 1630 / 2230
Ranking: SYC
Race starts: Jan 03rd 21:00 Registration Closed
Old Flash Client GO TO RACE
Virtual Cape2Rio Race 2021


Welcome to South Africa and RCYC's classic trans-Atlantic Cape2Rio Race from Cape Town, South Africa, to Rio de Janeiro, Brazil. First run in 1971 the next race in reality will be in January 2023, but in the meantime you can test yourself on-course in this, the Virtual Cape2Rio Race 2021, which introduces a new 74ft speedster, the stunning C2R74.
PRIZES: SMPFand See Intro Blog
Race #1411
INFO by brainaid.de
C2R74 PARTICULARS
WX Updates:
0430 / 1030 / 1630 / 2230
Ranking:
OCQ1-OCCH-SUPSOL-SYC
RACE CLOSE: Wednesday, 20 January at 2300utc
Race starts: Jan 02nd 12:00 Registration Closed
Old Flash Client GO TO RACE
SYC Ranking
Series
Mobile Client
SYC members have the benefit of access to our mobile/lightweight web client!