Online Sailracing!
Sailonline.org is owned and operated by Sailonline NavSim AB, a not for profit, community-owned company.
Sailonline's mission is to offer a superior internet-based sailing and navigation simulation to the global sailing community, whilst ensuring a future of growth and continuous enhancement to benefit its users through financial viability and long term vision.
All Sailonline boats and their properties are purely virtual and do not necessarily reflect real world data.
Sailonline is free for everyone to play and is supported by SYC Memberships.
Create your account
News from the blog
Welcome!
Now login with our guest account to view currently running races: Username: guest - Password: guest
PLEASE ONLY REGISTER YOUR OWN USERNAME AND PASSWORD IF YOU INTEND TO RACE.
All times on Sailonline are in UTC

GDPR - General Data Protection Regulations - Sailonline wishes to reassure all SOLers that it is aware of the regulation changes in relation to the protection of personal data. Sailonline cares about your privacy and will continue to let you control the personal information you provide. More info here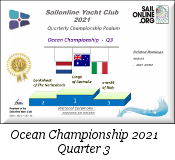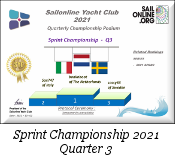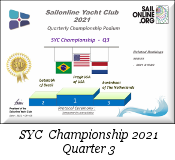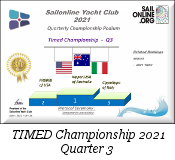 2021 Q3 SRC Review
Now we are almost out of the Pacific Ocean with our fleet exiting towards the Gulf, thoughts are turning to the racing for 2022. Are we ready for 6 races around the Indian ocean in 35' to 50' yachts once again avoiding intermediate marks – as far as possible?
Turning now to our report on the 2021Q3 racing with the winners and podiums: read the Quarterly Report here
Q3 Championship Results and Prizes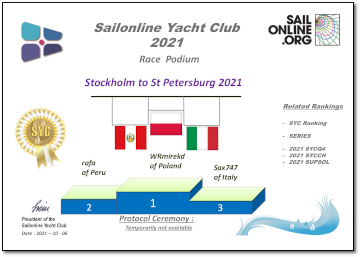 click on results image to see larger
GRATULACJE WRmirekd!!!
FELICIDADES rafa!! CONGRATULAZIONI Sax747!
Race Leaderboard
Reports


Commentary
This year's race from Stockholm to St. Petersburg can be considered closed. There were no signs that a calm race would turn into an interesting meeting. Already in the first leg to Saaremaa mark, there were many surprises due to the delayed weather forecast. Not all participants managed to implement their plan. Despite this, the whole race was run out in a very nice atmosphere.
Our yachts did a great job and although the conditions did not allow us to check all their capabilities, we achieved a quite satisfactory average speed of around 13 kts. Our winners WRmirekd and rafa practically controlled the race from the very beginning. An exciting fight was for third place between Cippalippa, Taffarazi and Sax747.
Congratulations to the winners and thank you all for participation and great fun.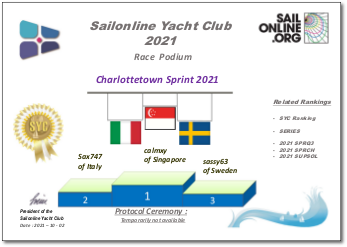 click on results image to see larger
CONGRATULATIONS calmxy!!!
CONGRATULAZIONI Sax747!! GRATTIS sassy63!
Race Leaderboard
Commentary
With two marks in the sea (to be rounded in reverse order, first Buoy 2, then 1!), this race might have been a benefit for the sharpest rounders of the fleet had it not been for the very 'wavy' polar of the SOTO 30, requiring careful judgment of when to switch from sailing deep to sailing high and in which order and at what angles, on the way out to 2, and on the way back from 1. Tricky stuff, and with a beat in between 2 and 1, rounding marks was far from the only thing to get right!
As the leaders headed for home after rounding 1, it looked like sassy63 had got it most right of all, but a late bear-away (and gennaker set) put paid to that, and it was calmxy who won the day, by 2 seconds from Sax747, with sassy63 only a further 1 second behind. Close racing; well done all!

click on results image to see larger
FELICITATIONS TarassBoulba!!!
GRATULACJE Wrmirekd (DavyScoundrelDunkin)!! FELICIDADES rafa!
Race Leaderboard
Commentary
In 2010 Sailonline "discovered" International Talk Like a Pirate Date and having planned a route through the Caribbean from one rum distillery to another, it was decided to join the two into a fun race where SOLers who were members of SYC (or joined during the race) could change their boatnames into piratical ones and so began the tradition of racing at least one race a year using as much pirate lingo as possible! The race is always a prize one and, after a brief hiatus, Sailonline's winner finally responded to an invitation to provide a postal address to receive the 2021 prize of a brass compass! The SYC membership extensions that are also part of this event have, of course, been awarded.
Your author was unable to be present for much of the race but sailing Sailonline's beautiful multi-masted superyacht, Falkun, the course raced well and there was, as is typical for all Sailonline races, strong competition for the winning spots. Our winner arrived 2m 23s ahead of the second place taker who was a fine 6m 4s ahead of the third finisher after a race that saw a typical mix of Caribbean conditions. Here's to 2022!
Pirate Names

Races
Next Race: 00d 00h 00m
---
Current Races:
Virtual PIC Coastal Classic Yacht Race 2021


Welcome! Kia Ora! to Auckland, New Zealand, and Sailonline's annual multihull race against the NZ Multihull Yacht Club competitors over 118nm from Auckland to Russell. Sadly, COVID19 restrictions mean the real race will not be running, but we welcome real racers to our virtual event where we are racing our 60ft trimarans in this testing event in the endlessly varying conditions off the east coast of North island. As is tradition, a hearty breakfast of bacon butties and rum will welcome yachties on their arrival.
Race #1515
INFO
by brainaid.de
60ft trimaran
PARTICULARS
WX Updates:
0430 / 1030 / 1630 / 2230
Ranking: SYC
Race starts:
Oct 21st 21:00
Registration Open!
GO TO RACE
Sail Around Turkey 2021
This is one of Sailonline's iconic races. Our Open 60 high-speed yachts will sail across three seas (Black Sea, Sea of Marmara, Mediterranean Sea) and two beautiful straits (Strait of Istanbul - Bosphorus and Strait of Canakkale - Dardanelles). Altogether 1372 nm of great and demanding sailing from Hopa (the easternmost point of the Turkish Black Sea coast) to Iskenderun (the easternmost point of Turkey's Mediterranean coast). Get ready for a lot of fun, we are waiting for you at the starting line.
Race #1517
INFO by brainaid.de
Open 60 PARTICULARS
WX Updates:
0430 / 1030 / 1630 / 2230
Ranking: SYC
RACE CLOSE: Tuesday,
October 19 at 2300 UTC.
Race starts: Oct 07th 15:00 Registration Closed

GO TO RACE
ESRW6 Singapore to Kuwait 2021
Join us as we embark on our final leg(6) of the fabulous ESRW round the equator race series, this time onboard the speedy 90 foot Monohull as we wind our way out of the Malacca Strait and across the Indian Ocean 3000nm to Kuwait. It'll be steamy all the way!
PRIZE: SMPF
Race #1508
INFOby brainaid.de
90 foot Monohull PARTICULARS
WX Updates:
0430 / 1030 / 1630 / 2230
Ranking: ESRW-OCQ4-OCCH-SUPERSOL-SYC
RACE CLOSE: Tuesday,
October 26 at 2300 UTC.
Race starts: Oct 01st 03:00 Registration Closed

GO TO RACE
SYC Ranking
Series
Mobile Client
SYC members have the benefit of access to our mobile/lightweight web client!