6 August 2019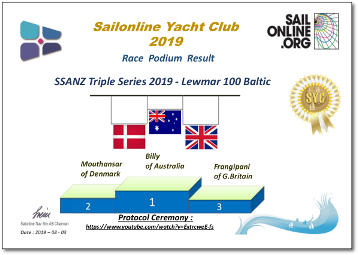 click on results image to see larger
GOOD ONYA Billy!!!
TILLYKKE Mouthansar!! CONGRATULATIONS Frangipani!
Race Leaderboard
Images

SSANZ (LiveSailDie) Video: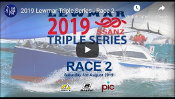 Reports



Commentary
Race 2 of the 2019 SSANZ Two-handed Triple Series completed and the three-race series win is up for grabs! Once of the speediest races experienced around the Hauraki Gulf for quite some time, while some were BBQ-ing the top finishers were already home and dry! The course was new for this year and while the real racers had their course adjusted because of the strong conditions, Sailonline's winner completed the full distance in an excellent time of 6h 23m 13s. Racing in the waters off Auckland really is a home from home for us now, and racing the Young 88 is always fun so it isn't surprising to see the top places so hotly contested. Even with a start late in the European evening (the majority of racers on Sailonline are based in Europe) tough European competition can't be counted out and, so it was this time that our podium three are a fair representation of both hemispheres!
The SSANZ Results show that only four of the Y88 entrants were able to complete the course, but the best corrected time was again from S/Y Split Decision with 5h53m25s (elapsed: 8h21m18s) . Again the locals win!
With SOLers flying the flags of 29 nations taking part, our podium three are to be congratulated on grabbing the top spots – mere seconds between them and mere seconds ahead of those following fast after them! Bravo guys!


Races
Next Race: 00d 00h 00m
---
Current Races:
Silverrudder 2019
Sailonline welcomes you to the fourth "buddy-up" with "Silverrudder - Challenge of the Sea" in the 2019 edition race around the Danish Island of Funen.
With shallow waters and a strong current this close inshore race is truly a challenge. One of three regattas around Funen each year, this race is the only one (and the biggest worldwide) for single handed racing. Will our Seascape 18 be a match for the real fleet's 16 Seascape 18's?
Time will tell!

It is imperative that you read AND understand these special Starting Conditions for Silverrudder 2019
Starting Conditions!!
Race #1283
INFO
from brainaid.de
Seascape 18
Particulars
WX Updates:
0430 / 1030 / 1630 / 2230
Ranking: SYC
ALT. CLIENT
Classic
Race starts:
Sep 20th 08:00
Registration Open!
GO TO RACE
Carib Rum Run 2019
Welcome to the Carribean and Sailonline's 2019 Pirate PRIZE race, run close to International Talk Like a Pirate Day on 19 September. This is a 1759nm slalom through the rum islands of the Caribbean, collecting barrels from the region's distilleries and carrying them to the rum-parched beaches of Cancun, Mexico. If ye scurvy swabs are up ter it, then ye be invited to attire yerselves in a piratical disguise by becoming an SYC Member and requesting to change your boat name for this race only!
Race #1284
INFO from brainaid.de
Orange Cat Particulars
WX Updates:
0430 / 1030 / 1630 / 2230
Ranking:
SYC
ALT. CLIENT:Classic
PRIZE: See Intro Blog
Race starts: Sep 17th 16:00 Registration Open!
GO TO RACE
Newport to Bermuda 2019
Every even year, the Cruising Club of America and the Royal Bermuda Yacht Club organise a race from Newport to Bermuda, and next year's edition will be the 52nd running of the event. So, since 2019 is an odd year, SOL is hosting a virtual replica of the course and making her fleet of IMOCA 60s available for charter to all-comers. 635nm across some very unpredictable weather.
Since the death of Andrew "Bart" Simpson in San Francisco in 2013 and the subsequent founding of the Andrew Simpson Sailing Foundation in his memory, commemorated every year by a global day of sailing, known as Barts Bash in early September, a Sailonline race has also promoted this charity every year, and this year it is this race to Bermuda that is honoured to do so.
Race #1273
INFOby brainaid.de
IMOCA 60 PARTICULARS
WX Updates:
0430 / 1030 / 1630 / 2230
Ranking:
SYCCH - SYQ3 - SUPSOL - SYC
ALT. CLIENT: Classic
RACE CLOSE: Friday,
September 20 at 2300 UTC.
Race starts: Sep 12th 17:00 Registration Open!
GO TO RACE
Wellington to Lima 2019
Have you ever been to Lima in Peru?
Now you've got the chance in this brand-new ocean race with departure from Wellington in New Zealand.
5718 nautical miles awaits us, crossing the mid-Pacific Ocean in a VO70, to the capital of Peru. And when in Lima, don't forget to celebrate your finish with Ceviche, a plate of fresh seafood, accompanied by a bottle of Arequipena Beer.
PRIZE: SMPF
Race #1281
INFOfrom brainaid.de
VO70v4 Particulars
WX Updates:
0430 / 1030 / 1630 / 2230
Ranking: OCCH-OCQ3-SUPSOL-SYC
ALT. CLIENT:Classic
Race starts: Sep 09th 18:00 Registration Open!
GO TO RACE
SYC Ranking
Series
Mobile Client
SYC members have the benefit of access to our mobile/lightweight web client!