9 May 2020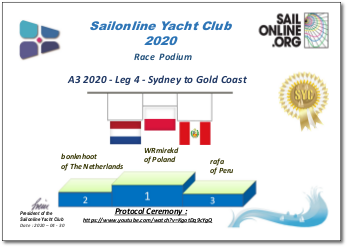 click on results image to see larger
GRATULACJE WRmirekd!!!
GEFELICITEERD bonknhoot!! FELICIDADES rafa!
Race Leaderboard
Reports

Commentary

As we set off on Leg 5 of our A3 (Aaron Around Australia) Memorial Series, let us not forget (your editor nearly did, and also wsguerin's very excellent report from mid-fleet top of page and the medal ceremony bottom ditto) the torrid upwind struggle of the previous leg from Sydney to Brisbane, which saw our numbers of Australian (in particular) virtual yachters swell prodigiously. With 276 entries of which 217 finished within the time limit, Leg 4 has been our best turn-out for some time. But not everybody enjoyed the unending struggle into the wind and the waves with rarely less than 25 knots apparent across the deck, and so it was that it was decided that was the last time for a good while, we wanted to take quite as much of our time about it, inspiring the following eulogy for that beastly Beneteau:

Farewell then, trusty Forty-seven, full-stop, 7
Cruise-racer most capacious, like a Seven 47
With opt'mum angles, simple, logical and fair
Back to the boathouse you shall go, don't ask, so there:
Some folk dislike your charms – they say "not Heaven".

Nervertheless, the 47.7 gave us close racing, and after three days of imagining sitting on the rail whilst perched on our sofa's, it was 1 minute that separated P1 from P2, another P2 from P3, a further P3 from P4 and a final P4 from the next 5, with P1 of course going to the redoubtable WRmirekd, who, as you will have read elsewhere, repeated that feat on The Great Sandy Strait two races later for a Perfect 10 on the SYC Ladder. It's a numbers game!

Races
Next Race: 00d 00h 00m
---
Current Races:
Migaloo Migration 2020
For many years, SOL has followed the migrations of the Pacific gray whale along the western coast of North America from its northern feeding grounds to its southern breeding grounds off Mexico. Down under in the far opposite corner of the Pacific, Migaloo, the white fella, and his humpback whale kin, exhibit exactly the same (or diametrically opposite) migratory habits between feeding grounds in Antarctic waters and breeding grounds off the coast of Queensland, Australia. We followed Migaloo's springtime track north for the first time in 2019 and this year we repeat the experience, now in 60ft Trimarans. Only 3200 nm. If a whale can do it, so can you!
PRIZE: SMPF
Race #1344
INFOby brainaid.de
60ft Trimaran Particulars
WX Updates:
0430 / 1030 / 1630 / 2230
Ranking:
OCCH-OCQ2-SUPERSOL-SYC
ALT. CLIENT:Classic
Race starts: Jun 05th 17:00 Registration Open!
New HTML5 Client GO TO RACE
A3 2020 Leg 6 - Airlie Beach to Cairns
SOL's gift to AGage's memory is the A3 - Agage's Around Australia Series. This race is Leg 6 of the series - a 295nm sprint in Seacart 30 Trimarans from Airlie Beach, inside the Great Barrier Reef up to Cairns.
Race #1353
INFO by brainaid.de
Seacart 30 Particulars
WX Updates:
0430 / 1030 / 1630 / 2230
Ranking: A3 - SYC
ALT. CLIENT: Classic
Race starts: Jun 01st 18:00 Registration Open!
New HTML5 Client GO TO RACE
SoCal 300 2020


The SoCal 300, raced in the waters of California on the US West Coast is usually one of San Diego Yacht Club's most challenging races meaning that we have our work cut out for us to be competitive in our Santa Cruz 52s. This year, due to #COVID19 the real race won't be running which means that some of the real competition may well find their way to race against us in virtuality!
Race #1349
INFO
by brainaid.de
Santa Cruz 52
Particulars
NAM_AWIP WX Updates:
0245 / 0845 / 1445 / 2045
Ranking: SYC
ALT. CLIENT:
Classic
RACE CLOSE: Wednesday, 3 June at 2300utc
Race starts:
May 28th 19:00
Registration Closed
New HTML5 Client
GO TO RACE
SYC Ranking
Series
Mobile Client
SYC members have the benefit of access to our mobile/lightweight web client!