16 July 2021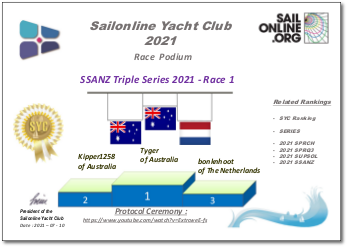 click on results image to see larger
CONGRATULATIONS Tyger!!! CONGRATULATIONS Kipper1258!!
GEFELICITEERD bonknhoot!
Race Leaderboard

Commentary
Ten real Young 88s and 84 virtual ones hit the line at respectively 11.20 and 11.15 local time on Saturday morning, July 10, for Race 1 of the 2021 SSANZ Triple Series on a downwind course in light to moderate airs out the Motukorea Channel, and our Australian friends Tyger and Kipper1258 showed at the front of the fleet straightaway, timing their gybe for the Motutapu shore nicely. A long and pleasant reach out to Motuora Island saw little change in the rankings, but, as always, various virtual vessels came to grief hugging the coast as they negotiated the island's rounding. Back in the Real World , the weather too was benign and the 'craic' mighty! A second long reach, now back to Motutapu proved trickier than the reach out, and some subtle changes in angle had bonknhoot coming into the battle for the virtual podium places. But nothing was certain until the line was crossed as can be seen in calmxy's excellent timelapse production, under the filmstrip below, and even then it took a little while before the server could return the precise order of finish.
And the virtual winner was? Tyger, absolutely roaring around the course in a time of 07:09:34, pipping Kipper1258 by a whole 2 seconds, and Babe, the first Young88 home on the real water, by a more serious 49-odd minutes. Terrific Tyger, but nothing like a good forecast that holds perfect for the day!

Timelapse by Calmxy
Races
Next Race: 00d 00h 00m
---
Current Races:
ESRW5 Port Noumea to Singapore 2021
For this fifth leg of the ESRW series, we depart the Pacific Ocean and head through a series of tropical seas along the 3937nm between Port Noumea and the busy port of Singapore in our Maxi Trimarans. As a change up to the last leg, there could be a variety of routing options through the many islands and straits that lie between the start and finish lines!
PRIZE: SMPF
Race #1492
INFOby brainaid.de
Maxi Trimaran PARTICULARS
WX Updates:
0430 / 1030 / 1630 / 2230
Ranking: ESRW-OCQ3-OCCH-SUPERSOL-SYC
Race starts: Aug 04th 19:00 Registration will open soon

GO TO RACE
Fremantle to Bali 2021
It is time for a revival of one of Australia's iconic races, the 1427 nm long "Fremantle to Bali" race, and it's considered to be a true test of seamanship.
Last raced in 2018 using Finngulf 43s, we will do it this year in Super Maxi 100s which are considerably faster!
Race #1495
INFOby brainaid.de
Super Maxi 100 PARTICULARS
WX Updates:
0430 / 1030 / 1630 / 2230
Ranking: SYC
Race starts: Jul 28th 03:00 Registration Open!

GO TO RACE
Sailonline's Baltic Tall Ships Races 2021 - Leg 3 - Mariehamn to Szczecin



Welcome to the third race of Sailonline's 7-race Tall Ships Series 2021 which is also the final of three virtual Tall Ships races in the Baltic Sea - a race of 250nm in Clippers from Mariehamn, Finland to Szczecin, Poland.
NOTE: Starts and Finishes in tall ships racing are always offshore to avoid conflict with shipping and shipping lanes.
Race #1494
INFO by brainaid.de
Clipper 240 PARTICULARS
WX Updates:
0430 / 1030 / 1630 / 2230
Ranking: TallShips - SYC
RACE CLOSE: Wednesday, 4 August at 2300utc
Race starts: Jul 25th 14:00 Registration Open!

GO TO RACE
Kiritappu to Elfin Cove 2021
We leave the famous wetlands of Kiritappu with their beautiful summer wildflowers and head 2938nm across the northern Pacific in our Volvo70s for this fourth leg of the 2021 PAC6 series. Our destination is Elfin Cove, Alaska. Let's hope one of the twenty odd inhabitants will be there to greet us at the bar!
PRIZE: SMPF
Race #1487
INFOby brainaid.de
Volvo70v4 PARTICULARS
WX Updates:
0430 / 1030 / 1630 / 2230
Ranking: PAC6-OCQ3-OCCH-SUPERSOL-SYC
RACE CLOSE: Saturday,
July 31 at 2300 UTC.
Race starts: Jul 11th 19:00 Registration Closed

GO TO RACE
SYC Ranking
Series
Mobile Client
SYC members have the benefit of access to our mobile/lightweight web client!