8 July 2021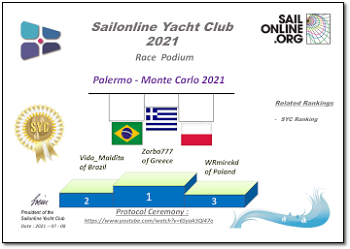 click on results image to see larger
ΣΥΓΧΑΡΗΤΉΡΙΑ Zorba777!!!
PARABÉNS Vida_Maldita!! GRATULACJE WRmirekd!
Race Leaderboard
Reports


Commentary
In 2013 for the first time SOL has organized a race through the "Mare Nostrum" from Palermo to Monte Carlo as one of our races in this difficult body of water. This year it was the 5th edition of our very interesting race. 138 crews representing 30 flags stood at the start. The seemingly simple route was full of changeable sailing conditions. Winds were typically fickle for this bowl-shaped sea, and it was fun, to keep an eye on the way in which the Sailonline fleet split after the first mark – it was a tough choice to make.
Racing in the Mediterranean is always tricky so our podium are truly to be congratulated for having trounced so many in grabbing the three top spots and finishing ahead of the field! We invite you to read the report of our winner Zorba777 and you will find out why he won. We just ask you, suddenly, don't change the names of your yachts.😊
Timelapse by calmxy

Races
Next Race: 00d 00h 00m
---
Current Races:
ESRW5 Port Noumea to Singapore 2021
For this fifth leg of the ESRW series, we depart the Pacific Ocean and head through a series of tropical seas along the 3937nm between Port Noumea and the busy port of Singapore in our Maxi Trimarans. As a change up to the last leg, there could be a variety of routing options through the many islands and straits that lie between the start and finish lines!
PRIZE: SMPF
Race #1492
INFOby brainaid.de
Maxi Trimaran PARTICULARS
WX Updates:
0430 / 1030 / 1630 / 2230
Ranking: ESRW-OCQ3-OCCH-SUPERSOL-SYC
Race starts: Aug 04th 19:00 Registration will open soon

GO TO RACE
Fremantle to Bali 2021
It is time for a revival of one of Australia's iconic races, the 1427 nm long "Fremantle to Bali" race, and it's considered to be a true test of seamanship.
Last raced in 2018 using Finngulf 43s, we will do it this year in Super Maxi 100s which are considerably faster!
Race #1495
INFOby brainaid.de
Super Maxi 100 PARTICULARS
WX Updates:
0430 / 1030 / 1630 / 2230
Ranking: SYC
Race starts: Jul 28th 03:00 Registration Open!

GO TO RACE
Sailonline's Baltic Tall Ships Races 2021 - Leg 3 - Mariehamn to Szczecin



Welcome to the third race of Sailonline's 7-race Tall Ships Series 2021 which is also the final of three virtual Tall Ships races in the Baltic Sea - a race of 250nm in Clippers from Mariehamn, Finland to Szczecin, Poland.
NOTE: Starts and Finishes in tall ships racing are always offshore to avoid conflict with shipping and shipping lanes.
Race #1494
INFO by brainaid.de
Clipper 240 PARTICULARS
WX Updates:
0430 / 1030 / 1630 / 2230
Ranking: TallShips - SYC
RACE CLOSE: Wednesday, 4 August at 2300utc
Race starts: Jul 25th 14:00 Registration Open!

GO TO RACE
Kiritappu to Elfin Cove 2021
We leave the famous wetlands of Kiritappu with their beautiful summer wildflowers and head 2938nm across the northern Pacific in our Volvo70s for this fourth leg of the 2021 PAC6 series. Our destination is Elfin Cove, Alaska. Let's hope one of the twenty odd inhabitants will be there to greet us at the bar!
PRIZE: SMPF
Race #1487
INFOby brainaid.de
Volvo70v4 PARTICULARS
WX Updates:
0430 / 1030 / 1630 / 2230
Ranking: PAC6-OCQ3-OCCH-SUPERSOL-SYC
RACE CLOSE: Saturday,
July 31 at 2300 UTC.
Race starts: Jul 11th 19:00 Registration Closed

GO TO RACE
SYC Ranking
Series
Mobile Client
SYC members have the benefit of access to our mobile/lightweight web client!