21 March 2021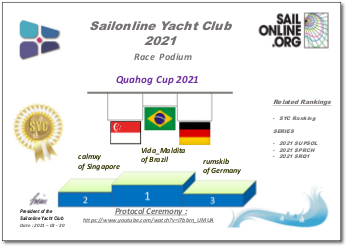 click on results image to see larger
PARABÉNS Vida_Maldita!!! CONGRATULATIONS calmxy!!
HERZLICHEN GLÜCKWUNSCH rumskib!
Race Leaderboard

Commentary
A sneaky little channel between Coasters Island and downtown Newport that could be passaged on starboard tack gave our eventual winner an early lead as c 120 SOLers headed north up the western arm of Narragansett Bay after rounding Rose Island. Many twists and turns followed, both of wind and of the course, and not all managed to negotiate these faultlessly, allowing calmxy and rumskib opportunities to close on SadlerSailing and Vida_Maldita. You can read all about how that was done in rumskib's very excellent report under the button above, and followed it in an equally excellent timelapse by calmxy under the filmstrip below.
Sadler had an incident rounding Newton Rock allowing the chasers through, but Vida_Maldita sailed faultlessly and could not be hauled in. However, Sadler had done more than enough to win Q1 overall, which, mind you, might have been a different matter had Vida not missed the first race of the quarter. So, well done Sadler and well done Vida!

Races
Next Race: 00d 00h 00m
---
Current Races:
Virtual Shetland Race 2021 - Leg 1 - Bergen to Lerwick
Welcome again to outer Korsfjorden, Norway, for the first leg of two in the 2021 Virtual Shetland Race. Due pandemic restrictions and concerns the Pantaenius Shetland Race 2021 will not now be taking place but the organisers have approved us to race the course anyway! This Sailonline mini-series comprises two races of 186nm across the North Sea from Bergen to Shetland and back and we will be racing our First 40.7s
Race #1476
INFO from brainaid.de
First 40.7 PARTICULARS
WX Updates:
0430 / 1030 / 1630 / 2230
RANKING: Shetland - SYC
Race starts: Jun 23rd 08:00 Registration will open soon

GO TO RACE
Singapore Visit 2021
Welcome to the remote Indonesian island of Natuna Besar and our third running of this 365 nm race across the southern reaches of the South China Sea to Singapore. In previous runnings we have allowed you a choice of 40 footers. This time, we'll keep it simple and just give you the fastest one, the Carkeek 40. Race, race, race!
Race #1460
INFO by brainaid.de
 Carkeek 40 PARTICULARS
WX Updates:
0430 / 1030 / 1630 / 2230
Ranking:
SYQ2 - SYCCH - SUPSOL - SYC 
Race starts: Jun 23rd 02:00 Registration will open soon

GO TO RACE
Sprint Jezera 2021
Welcome back to the Dalmatian Archipelago, so named because the chart of its waters resembles the coat of 1 of the eponymous 101 hounds, with 1001 spots to enjoy a BBQ or seek shelter. It's summertime, so the chance of a cold katabatic north easterly Bora gusting down from the mountains catching you out, as you race your flashy First 27s around our triangular 20nm course, are reduced now, but you never know. To quote Iain M Banks: 'Look to Windward!'
Race #1453
INFO by brainaid.de
First 27 PARTICULARS
WX Updates:
0430 / 1030 / 1630 / 2230
Ranking:
SPRQ2 - SPRCH - SUPSOL - SYC
Race starts: Jun 19th 16:00 Registration Open!

GO TO RACE
Kaneohe to Kiritappu 2021
It's time to say goodbye to Hawaii and head to leg 3 of the PAC6 Pacific Ocean racing championship. Ahead of us is 3108 nm across the northwest Pacific Ocean from Kaneohe Bay to Kiritappu, Japan. Our Maxi Trimaran's are still undergoing the necessary repairs, so leg 3 we will be racing VO70. Fair winds and see you at the finish line of Kiritappu.
Race #1475
INFO by brainaid.de
VO70_v4 PARTICULARS
WX Updates:
0430 / 1030 / 1630 / 2230
Ranking: SYC - PAC6
Race starts: Jun 08th 22:00 Registration Closed

GO TO RACE
ESRW Honolulu to Port Noumea 2021
Time to stow all warm weather gear as this outing we undertake the 3350nm fourth leg of our fabulous equatorial round the world race (ESRW) from Honolulu across the equator to Port Noumea in our Steinlager 2. We did tell you to bring lots of sunburn cream for this series!
PRIZE: SMPF
Race #1473
INFOby brainaid.de
Steinlager 2 PARTICULARS
WX Updates:
0430 / 1030 / 1630 / 2230
Ranking: ESRW-OCQ2-OCCH-SUPERSOL-SYC
Race starts: Jun 06th 21:00 Registration Closed

GO TO RACE
Vinland Rally 2021


Welcome back to virtual cruising. This time our cruise starts from Reykjavik, Iceland and after calling in at Taliisaq and Nanortaliq in Greenland, and Cartwright Harbor in Labrador, we finish at L'Anse aux Meadows Historic Site, an archaeological site that may well prove to be Leif Erikson's 1001 AD Markland settlement, evidencing Viking arrival in N America. You may start at any time after 1700utc on 20 May, to arrive in l'Anse aux Meadows by 2300utc on 26 June.
Race #1470
INFO by brainaid.de
Santa Cruise 52 PARTICULARS
Passport Cruise 40 PARTICULARS
WX Updates:
0430 / 1030 / 1630 / 2230
RANKING: NONE
Race starts: May 20th 17:00 Registration Open!

GO TO RACE
SYC Ranking
Series
Mobile Client
SYC members have the benefit of access to our mobile/lightweight web client!