23 September 2021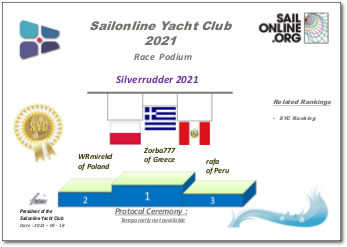 click on results image to see larger
ΣΥΓΧΑΡΗΤΉΡΙΑ Zorba777!
GRATULACJE WRmirekd!! FELICIDADES rafa!!!
Race Leaderboard
Reports

Commentary
As this year's Silverrudder was quite an exhausting affair of more than 36 hours virtual sailing in much lighter forecast winds than actually prevailed across the IRL Funen circuit, which the first First 27s got round in slightly less than 21 hours, it has taken a little longer for our competitors to recover, but when they did, a very fine report indeed (under the button above) was received by your editor from the eventual winner by the smallest of margins (8 seconds), Zorba777. Read it for a tack-by-tack account of how he did it.
Well done to Zorba777 then, but also to WRmirekd, who very generously donated a special and useful prize of a Gerber Multi-tool in memory of our great friend, competitor and organizer, Bimmer, who would surely have been here, both on the virtual water and on the Svendborg quayside, had he not sailed away to the great sea in the sky earlier this year.

Races
Next Race: 00d 00h 00m
---
Current Races:
Virtual PIC Coastal Classic Yacht Race 2021


Welcome! Kia Ora! to Auckland, New Zealand, and Sailonline's annual multihull race against the NZ Multihull Yacht Club competitors over 118nm from Auckland to Russell. Sadly, COVID19 restrictions mean the real race will not be running, but we welcome real racers to our virtual event where we are racing our 60ft trimarans in this testing event in the endlessly varying conditions off the east coast of North island. As is tradition, a hearty breakfast of bacon butties and rum will welcome yachties on their arrival.
Race #1515
INFO
by brainaid.de
60ft trimaran
PARTICULARS
WX Updates:
0430 / 1030 / 1630 / 2230
Ranking: SYC
Race starts:
Oct 21st 21:00
Registration Open!
GO TO RACE
Sail Around Turkey 2021
This is one of Sailonline's iconic races. Our Open 60 high-speed yachts will sail across three seas (Black Sea, Sea of Marmara, Mediterranean Sea) and two beautiful straits (Strait of Istanbul - Bosphorus and Strait of Canakkale - Dardanelles). Altogether 1372 nm of great and demanding sailing from Hopa (the easternmost point of the Turkish Black Sea coast) to Iskenderun (the easternmost point of Turkey's Mediterranean coast). Get ready for a lot of fun, we are waiting for you at the starting line.
Race #1517
INFO by brainaid.de
Open 60 PARTICULARS
WX Updates:
0430 / 1030 / 1630 / 2230
Ranking: SYC
RACE CLOSE: Tuesday,
October 19 at 2300 UTC.
Race starts: Oct 07th 15:00 Registration Closed

GO TO RACE
ESRW6 Singapore to Kuwait 2021
Join us as we embark on our final leg(6) of the fabulous ESRW round the equator race series, this time onboard the speedy 90 foot Monohull as we wind our way out of the Malacca Strait and across the Indian Ocean 3000nm to Kuwait. It'll be steamy all the way!
PRIZE: SMPF
Race #1508
INFOby brainaid.de
90 foot Monohull PARTICULARS
WX Updates:
0430 / 1030 / 1630 / 2230
Ranking: ESRW-OCQ4-OCCH-SUPERSOL-SYC
RACE CLOSE: Tuesday,
October 26 at 2300 UTC.
Race starts: Oct 01st 03:00 Registration Closed

GO TO RACE
SYC Ranking
Series
Mobile Client
SYC members have the benefit of access to our mobile/lightweight web client!