Online Sailracing!
Sailonline.org is owned and operated by Sailonline NavSim AB, a not for profit, community-owned company.
Sailonline's mission is to offer a superior internet-based sailing and navigation simulation to the global sailing community, whilst ensuring a future of growth and continuous enhancement to benefit its users through financial viability and long term vision.
All Sailonline boats and their properties are purely virtual and do not necessarily reflect real world data.
Sailonline is free for everyone to play and is supported by SYC Memberships.
Create your account
News from the blog
Welcome!
Now login with our guest account to view currently running races: Username: guest - Password: guest
PLEASE ONLY REGISTER YOUR OWN USERNAME AND PASSWORD IF YOU INTEND TO RACE.
All times on Sailonline are in UTC

GDPR - General Data Protection Regulations - Sailonline wishes to reassure all SOLers that it is aware of the regulation changes in relation to the protection of personal data. Sailonline cares about your privacy and will continue to let you control the personal information you provide. More info here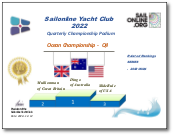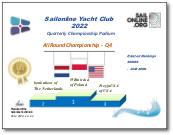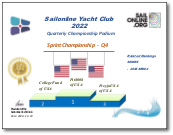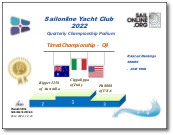 With so much to report upon for the fourth quarter of 2022 and then preparing my report on the annual series, I shall not spend any time musing on the progress of the World but just wish you all a very Happy New Year during which SRC will attempt to provide you with a range of virtual yacht racing that hopefully will satisfy most of you most of the time.

Without further ado then, I summarise below the results for the Series racing in the 4th Quarter 2022.

read the Quarterly Report here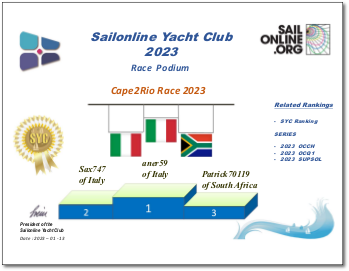 click on results image to see larger
CONGRATULAZIONI aner59 !!!
CONGRATULAZIONI Sax747 !! CONGRATULATIONS Patrick70119 !

Race Leaderboard
Reports

Commentary
"Hope you all had a good beginning of year 2023. Here are the results from our first Ocean Race of 2023 – the iconic Cape2Rio. After a hiatus of 2 years, we again raced with the real fleet, in cooperation with South Africa's Royal Cape Yacht Club. The Sailonline had the pleasure to engage 20 new sailors to the SOL community, for this race. At the start there were 192 boats registered of which 140 started at the gun. Some late registered joined, and the total number of boats were 219, in addition to the real fleet of 16 yachts."

The first two days the fleet was quite unanimous what route to take. On the third day there rose some disagreement, north route or south. The main fleet decided, north is the route to take. The southern boundary of the race area was quite narrow, which perhaps made it less attractive. In the race chatroom there was discussion about difference in ETA suggesting 1h advantage for the north option. Further in to the race the difference in ETA grew, and at the finish line it was over 21 hours. The main fleet was quite concentrated, with 21 yachts over the line within 2 h.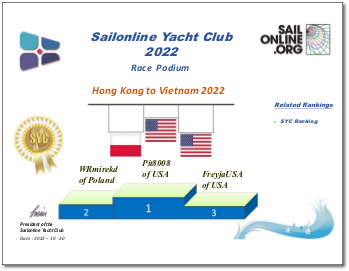 click on results image to see larger
CONGRATULATIONS Pit8008 !!!
GRATULACJE WRmirekd !! CONGRATULATIONS FreyjaUSA !

Race Leaderboard
Commentary
Back in October also, 100 plus two SOLers showed on the line offshore Hong Kong for a quick downwind dash to Vietnam's Nha Trang, and 76 made the time limit, with the leading boats completing the c 750 sailed nautical miles in just under two days. Good going, even for TP 52's.

It was close at the front, but Pit8008 won handsomely enough by slightly more than 3 minutes from his nearest pursuer WRmirekd with FreyjaUSA a further four minutes behind completing the impressive podium.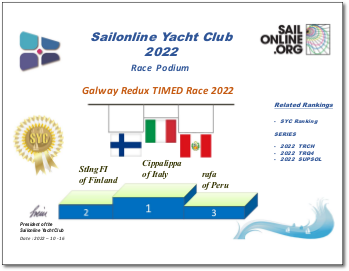 click on results image to see larger
CONGRATULAZIONI Cippalippa !!!
ONNITTELUT StIngFI !! FELICIDADES rafa !

Race Leaderboard
Commentary
Back in October, 287 attempts were made to see who could get from Achill to Galway fastest avoiding various islands off the Connemara coast and leaving the mystical mythical island of Hy Breasal to port. A fortnight of mighty craic as they might say in Ireland, with the best craic it turned out to be had early afternoon, Friday the 7th of October.

Thus, with the top 6 all departing in a narrow window between 13:30 and 14:11, it was Cippalippa's early-ish 13:36 departure that won out on the afternoon, by a whole server jump from his nearest pursuer, StIngFI, one of the latest of the leading pack to depart, to keep it interesting. Tight timing!

Races
Next Race: 00d 00h 00m
---
Current Races:
Up Helly Aa 2023
A-OI!!! The cry should soon be ringing out in the streets of Lerwick as the Guizer Jarl and his crew, along with the other teams in the Up Helly Aa parade complete their preparations for the biggest fire festival in Europe. As is Sailonline's tradition, we shall be racing the 383nm from Aberdeen to Lerwick to (virtually) take part in the Up Helly Aa festivities there which take place for the first time since 2020 on Tuesday, 31 January. SAILING NOTE: Gruney may be approached from any direction but must be passed for rounding purposes as indicated on the chart.
Race #1660
INFO by brainaid.de
Elan 410 PARTICULARS
WX Updates:
0430 / 1030 / 1630 / 2230
Ranking: SYC
Race starts: Jan 28th 11:00 Registration Open!

GO TO RACE
Iceland TIMED Race 2023
Welcome to Iceland, where the weather is chilly but there are plenty of volcanoes and beaches to admire along Iceland's beautiful south coast. In fact, our first TIMED race of this year will take us on a 150nm eastbound trip in quick Orange Cats from the Vestmannaeyjaber archipalego to the Stokksnes peninsula. Just mind to enjoy the view from a distance and avoid the temptation to BBQ on the pristine beaches!
RE-REGISTER HERE to race again after finishing a run
Race #1650
INFO by brainaid.de
Orange 125 PARTICULARS
WX Updates:
0430 / 1030 / 1630 / 2230
Ranking:
TRQ1 - TRCH - SUPSOL - SYC
RACE CLOSE: Sunday, 29 January at 23:00 UTC
Race starts: Jan 14th 12:00 Registration Open!

GO TO RACE
Sinbad Surveys Arabia 2023
Sinbad Al-SOL'er invites you to race him on seven epic voyages (5 to count), not entirely in line with those of his illustrious ancestor Al-Sail'or described in the 1001 Nights, and totally out of line with those voiced over by Brad Pitt in Sinbad - The Seven Seas, commencing with a survey of Arabia, from the island kingdom of Bahrain all the way to Aqaba, there where, in 1917, after a desperate forced march, TE Lawrence, Sherif Nasir and Auda abu Tayi routed the Ottomans. Instead of camels through the sand, though, we'll voyage the c 3000nm across the sea on IMOCA 60's.
Race #1636
INFOby brainaid.de
IMOCA 60 v2 PARTICULARS
WX Updates:
0430 / 1030 / 1630 / 2230
Ranking: SYC - SVS
RACE CLOSE: Tuesday,
January 31 at 2300 UTC.
Race starts: Jan 09th 09:00 Registration Closed

GO TO RACE
SYC Ranking
Series
Mobile Client
SYC members have the benefit of access to our mobile/lightweight web client!