Online Sailracing!
Sailonline.org is owned and operated by Sailonline NavSim AB, a not for profit, community-owned company.
Sailonline's mission is to offer a superior internet-based sailing and navigation simulation to the global sailing community, whilst ensuring a future of growth and continuous enhancement to benefit its users through financial viability and long term vision.
All Sailonline boats and their properties are purely virtual and do not necessarily reflect real world data.
Sailonline is free for everyone to play and is supported by SYC Memberships.
Create your account
News from the blog
Welcome!
Now login with our guest account to view currently running races: Username: guest - Password: guest
PLEASE ONLY REGISTER YOUR OWN USERNAME AND PASSWORD IF YOU INTEND TO RACE.
All times on Sailonline are in UTC

GDPR - General Data Protection Regulations - Sailonline wishes to reassure all SOLers that it is aware of the regulation changes in relation to the protection of personal data. Sailonline cares about your privacy and will continue to let you control the personal information you provide. More info here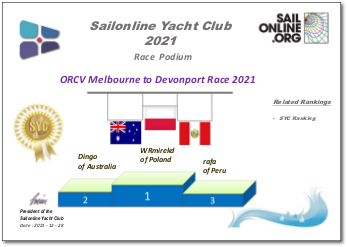 click on results image to see larger
GRATULACJE WRmirekd!!!
CONGRATULATIONS Dingo!! FELICIDADES rafa!
Race Leaderboard
Commentary
A festive fleet of 130 First 40s managed to get their entry in for this year's annual virtual online Rudder Cup in cooperation with Melbourne's ORCV, traditionally Sailonline's last race of the year. Quite a turnout, considering the domestic pressure that always mounts up between Christmas and New Year. And not only did 130 skippers enter, 95 finished. Well done all!
However, particular praise must go to WRmirekd, who, not for the first time this year, showed the fleet a clean pair of keels (the editor assumes there has to be something dinky about this man's boats – a trimtab or a forward rudder, who knows!). But in all seriousness, what a way to end your year – with another win and a running total of 14 points on the SYC Ladder. Wspaniały Mirek!!!


Sailonline is excited to be partnering with Royal Cape Yacht Club to bring to racers around the world the second virtual version of the classic Cape2Rio Race from Cape Town, South Africa, to Rio de Janeiro, Brazil, to help you hone your navigation skills.
The first Cape to Rio Race took place in 1971, so this virtual Cape2Rio Race 2022 will be commemorating the 51th anniversary of this classic transatlantic challenge. Especially for this and last year's virtual races, Wicklow-based designer Mark Mills has created a new boat, the C2R74. As you can see, she is a beauty – click her image to see her Particulars.
Sailonline's race will start on Saturday, 2 January 2022 at 1400utc and the race is open for practice.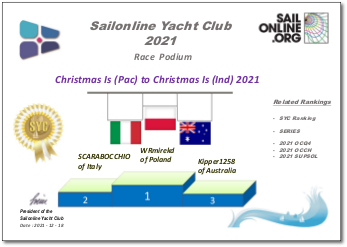 click on results image to see larger
GRATULACJE WRmirekd!!!
CONGRATULAZIONI SCARABOCCHIO!!
CONGRATULATIONS Kipper1258!
Race Leaderboard
Commentary
Happy New Year and herewith the results of our last Ocean Race of 2021 – the usually more than 7,000nm race from Christmas to Christmas, which logically should take a year, but our top SOLers tend to complete in little more than three weeks.
With the whole of the Philippines, Indonesia and Australia in the way of your meteorologically best route, calculated gambles are always required, but, on average, as this year, the route over the top of the Philippines has a better chance of success, and thus it was that three riders on the storm, who put in more northing earlier than all the rest, sailed into a commanding lead, which their chasers slaloming down the China Sea astern of them never dented. And of the terrific three, it was WRmirekd, who held on, WX after WX , for a famous victory, by only and exactly 1 minute from SCARABOCCHIO, with Kipper1258 a further mere 30 seconds behind. What a podium!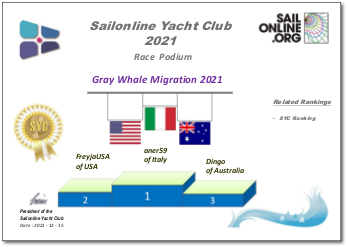 click on results image to see larger
CONGRATULAZIONI aner59!
CONGRATULATIONS FreyjaUSA!! CONGRATULATIONS Dingo!!!!
Race Leaderboard
Commentary
As always, most of our fleet of this year exactly 150 virtual whalers quite outpaced the gray whales on their migration south out of the Bering Sea, with an impressive 120 reaching the sheltered whale-grounds off Isla Magdalena within the time limit of 23 days. Some whalers naturally got there much quicker than others, and with a fine prize of a Leatherman multi-tool at stake, the competition to be first was fierce.
Our migration, of course, features a number of legs, and on the first leg down to the left hand turn at Mount Westdahl for Middleton Island, those who did not keep right of St Lawrence Island lost the chance for the Leatherman straightaway, which still left a pod (I suppose) of a dozen or more whalers in the mix, which finally went the way of aner59 who found the best breeze on the fourth and final leg from Cape Blanco to the finish. Magnifico Aner!

Races
Next Race: 00d 00h 00m
---
Current Races:
Shetland Winter Race 2022
A-OI!!! The cry should soon be ringing out in the streets of Lerwick as the Guizer Jarl and his crew, along with the other teams in the Up Helly Aa parade complete their preparations for the biggest fire festival in Europe. While Shetland continues to manage #COVID19 well, Up Helly Aa has been cancelled but this won't stop SOLers racing their Elan 410s this 383nm course from Aberdeen to be sociable in Lerwick Harbour. SAILING NOTE: Gruney may be approached from any direction but must be passed for rounding purposes as indicated on the chart.
Race #1554
INFO by brainaid.de
Elan 410 PARTICULARS
WX Updates:
0430 / 1030 / 1630 / 2230
Ranking: SYC
Race starts: Jan 23rd 11:00 Registration Open!

GO TO RACE
Tuvalu Sprint 2022


We will start our sprint competition this year with a new 35.4 nm race around the Te Namo Lagoon islands of Tuvalu in the central Pacific. We will sail our Fareast 28 boats between the tiny islands of this archipelago. Prepare your boats and crews, and watch out for sandbars and bommies.
Race #1548
INFO
by brainaid.de
Fareast 28R
PARTICULARS
WX Updates:
0430 / 1030 / 1630 / 2230
Ranking:
SPRQ4 - SPRCH - SUPSOL - SYC
RACE CLOSE:
Friday,
January 21 at 2300 UTC.
Race starts:
Jan 16th 18:00
Registration Closed
GO TO RACE
Sail Newport Timed Race 2022


Welcome to Rhode Island in our first
TIMED
race this year. In 2020 we raced on Maxi Trimarans, now we will see how fast we can cover the 87nm route around Block Island, Fishers Island and back to the clubhouse on MC 38 monohulls. The previous record of 4 hours 5 minutes and 21 seconds belongs to Kipper1258. Try to judge your weather window well, but once you've finished (you must have finished), you can always try again (as often as you like) by clicking the link below.
RE-REGISTER HERE
to race again after finishing a run.
Race #1549
INFO
by brainaid.de
MC 38
PARTICULARS
WX Updates:
0430 / 1030 / 1630 / 2230
RANKING: TRQ1-TRCH-SUPSOL-SYC
REGISTRATION CLOSE:
Sunday, 23 January at 2200utc
RACE CLOSE:
Sunday, 23 January at 2300utc
Race starts:
Jan 10th 12:00
Registration Open!
GO TO RACE
Yellow Sea Race 2022
There are six seas along the eastern seaboard of mainland Asia. Six seas less travelled by the racing sailor. So, here we go. Six races up and down the Asian coast, plus one in the nearest sea to the Asian mainland of the Indonesian Archipelago, to make it a mythical seven; five to count. And in no particular order, we start with a 2200nm or so race criss-cross through the Yellow Sea in ever-elegant Italia 14.98's.
Race #1538
INFOby brainaid.de
Italia 14.98 PARTICULARS
WX Updates:
0430 / 1030 / 1630 / 2230
Ranking: SYC - SSA
RACE CLOSE: Friday,
January 21 at 2300 UTC.
Race starts: Jan 04th 04:00 Registration Closed

GO TO RACE
Cape Town to Rio 2022


Welcome to South Africa and RCYC's classic transatlantic Cape2Rio Race from Cape Town, South Africa, to Rio de Janeiro, Brazil. First run in 1971, the next race in reality will be in January 2023, but in the meantime you can test yourself on-course in this, our second virtually-only Cape2Rio Race, which we will once again be sailing in Mark Mills' 74ft speedster, the stunning C2R74.
PRIZE: SMPF
Race #1537
INFO by brainaid.de
C2R74 PARTICULARS
WX Updates:
0430 / 1030 / 1630 / 2230
Ranking:
OCQ1 - OCCH - SUPSOL - SYC
RACE CLOSE: Tuesday,
January 25 at 2300 UTC.
Race starts: Jan 02nd 14:00 Registration Closed

GO TO RACE
SYC Ranking
Series
Mobile Client
SYC members have the benefit of access to our mobile/lightweight web client!