Online Sailracing!
Sailonline.org is owned and operated by Sailonline NavSim AB, a not for profit, community-owned company.
Sailonline's mission is to offer a superior internet-based sailing and navigation simulation to the global sailing community, whilst ensuring a future of growth and continuous enhancement to benefit its users through financial viability and long term vision.
All Sailonline boats and their properties are purely virtual and do not necessarily reflect real world data.
Sailonline is free for everyone to play and is supported by SYC Memberships.
Create your account
News from the blog
Welcome!
Now login with our guest account to view currently running races: Username: guest - Password: guest
PLEASE ONLY REGISTER YOUR OWN USERNAME AND PASSWORD IF YOU INTEND TO RACE.
All times on Sailonline are in UTC

GDPR - General Data Protection Regulations - Sailonline wishes to reassure all SOLers that it is aware of the regulation changes in relation to the protection of personal data. Sailonline cares about your privacy and will continue to let you control the personal information you provide. More info here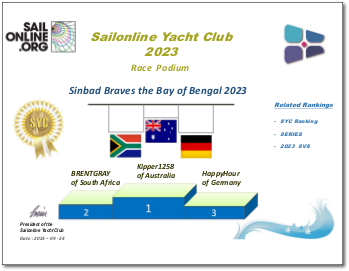 click on results image to see larger
CONGRATULATIONS Kipper1258 !!!
CONGRATULATIONS BRENTGRAY !!
HERZLICHEN GLÜCKWUNSCH HappyHour !

Race Leaderboard
Reports

Commentary
Another voyage, another monsoon to beat into, another blue bubble to second guess, and another fetch home - there is something very eternal about the weather on the seas of the Indian Ocean!

So eternal, that Kipper1258 took the gun again, but for a while it looked like BRENTGRAY had reckoned it right, and how he did that, you can read in his report under the dhow-silhouetted button above. And HappyHour came third to make it a very jolly podium indeed. Sindbad's next and last voyage for 2023 is coming up soon. Where else shall he wander? Don't miss it!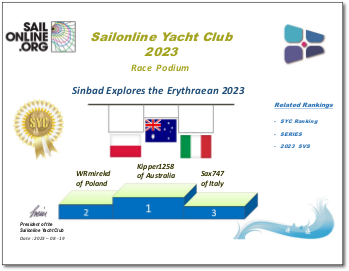 click on results image to see larger
CONGRATULATIONS Kipper1258 !!!
GRATULACJE WRmirekd !! CONGRATULAZIONI Sax747 !

Race Leaderboard
Commentary
There can be little doubt about it now, that Sinbad and his Sultan always conspire to create more than challenging voyages of exploration, and this one across the Erythraean Sea proved to be no exception. A long, long beat into the strong and steady summer monsoon was followed by an equally long, long leg west to east through unpredictable doldrums and finally a fetch north to Surat of only three days or so duration, the shortest leg of the course.

Places changed from leg to leg, but in Surat, it was Kipper1258 who crossed the line first, having defended the lead he had established at Minicoy all the way home. Ripper, Kipper!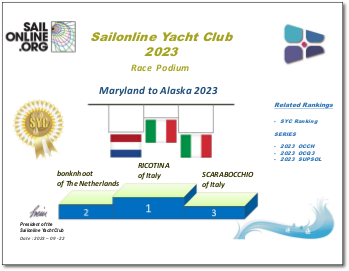 click on results image to see larger
CONGRATULAZIONI RICOTINA !!!
GEFELICITEERD bonknhoot !!
CONGRATULAZIONI SCARABOCCHIO !

Race Leaderboard
Reports

Commentary
This was the third time we raced over the top of North America from Maryland to Alaska, and as on both previous occasions much fun was had by all, guessing, no figuring, what was the best route, first up the East Coast, then through 'a' North West Passage, and finally down the Beaufort Sea. Icewise, it actually happened to be the right time of year for it, and of course the climate has 'improved' for this particular passage. Indeed, Franklin might have even made it through, although his route through the Hudson Strait, the Gulf of Boothia and into his eponymous Franklin Strait would definitely not have won the race.

What did win the race? You may well ask. Well, best to read bonknhoot's excellent (even though I say so myself: ed) report under the button above, where you will learn how RICOTINA did it, and SCARABOCCHIO came third, to create a rijp-belegen ciabatta sandwich. What a race!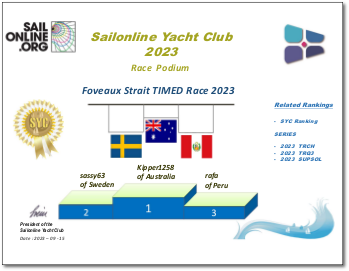 click on results image to see larger
CONGRATULATIONS Kipper1258 !!!
GRATTIS sassy63 !! FELICIDADES rafa !

Race Leaderboard
Commentary
And to bring y'all right up to date, here are the results of the TIMED racing in the Foveaux Strait off the southern tip of New Zealand's South Island, which generated a complete different podium once again.

This time Thursday the 14th of September was the day the wind blew right and the first 22 boats all had a start on that day, mostly after 12:00 UTC, which was a bleary-eyed 01:00 in the morning local time down there. This time it was Kipper1258 who found the perfect time starting at 12:14:06 UTC and putting slightly more than a minute on his nearest challengers, sassy63 and rafa, who started about a half hour later and a half hour earlier respectively. TIMING is everything!

Races
Next Race: 00d 00h 00m
---
Current Races:
Fisherman's Friend 2023


A 272nm race in First 40s around the main fishing ports and grounds off Devon and Cornwall. The Western Approaches can be anything but predictable at any time of the year, but in October, with wild weather hurling itself across the Atlantic, and the occasional calm, you will need to be prepared for everything, so pack your foulies!
Race #1728
INFO
by brainaid.de
First 40.7
PARTICULARS
WX Updates:
0430 / 1030 / 1630 / 2230
Ranking: SYC
Race starts:
Oct 03rd 09:00
Registration Open!
GO TO RACE
Stockholm to St. Petersburg - 2023
Welcome to Stockholm - are you ready to race this course of about 431nm across the Baltic and into the Gulf of Finland, from one great historic city Stockholm to another St. Petersburg? The Gulf of Finland is still ice-free so board your Club Swan 50's and prepare. Take care and keep a weather eye. The odd stray submarine may need to be avoided but if you keep a good lookout you should soon be docking at the home of the world-renowned Hermitage Museum!
Race #1743
INFO by brainaid.de
Club Swan 50 PARTICULARS
WX UPDATES:
0430 / 1030 / 1630 / 2230
Ranking:
ARQ4 - ARCH - SUPSOL - SYC
Race starts: Oct 02nd 10:00 Registration Open!

GO TO RACE
Sailonline's Tall Ships Re-Run 2023 - Lisbon to Cadiz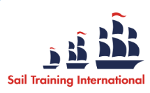 Welcome back to a re-run of the fifth and last of five virtual races representing this year's European Tall Ships Races hosted in reality by Sail Training International. This fifth race is from Lisboa, Portugal to Cadiz, Andalusia; circa 130nm around Cape St Vincent in Sailonline's 90 metre Barque.
NOTE: Starts and Finishes in tall ships racing are always offshore to avoid conflict with shipping and shipping lanes.
Race #1729
INFO by brainaid.de
90m Barque PARTICULARS
WX Updates:
0430 / 1030 / 1630 / 2230
RANKING: TS - SYC
Race starts: Oct 01st 14:00 Registration Open!

GO TO RACE
Carib Rum Run 2023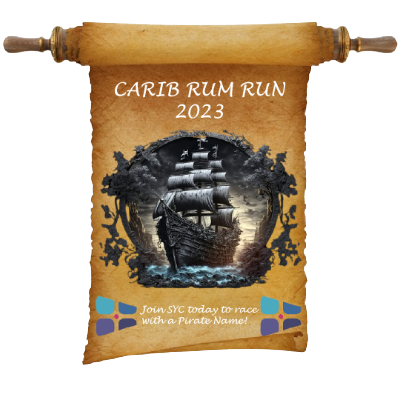 Welcome to the Caribbean and Sailonline's annual Pirate race, running with
International Talk Like a Pirate Day
on 19 September! This is a 1759nm slalom through the rum islands of the Caribbean in our glorious Falkun superyachts! Our mission is to collect barrels from the region's distilleries and carry them to the rum-parched beaches of Cancun, Mexico. Join SYC before race end and ye befuddled scallywags can disguise yer boat for this race only with a pirate name!
Race #1698
INFO
from brainaid.de
Falkun
PARTICULARS
WX Updates:
0430 / 1030 / 1630 / 2230
Ranking: SYC
RACE CLOSE:
Tuesday,
October 3 at 2300 UTC.
Race starts:
Sep 16th 15:00
Registration Closed
GO TO RACE
SYC Ranking
Series
Mobile Client
SYC members have the benefit of access to our mobile/lightweight web client!