Online Sailracing!
Sailonline.org is owned and operated by Sailonline NavSim AB, a not for profit, community-owned company.
Sailonline's mission is to offer a superior internet-based sailing and navigation simulation to the global sailing community, whilst ensuring a future of growth and continuous enhancement to benefit its users through financial viability and long term vision.
All Sailonline boats and their properties are purely virtual and do not necessarily reflect real world data.
Sailonline is free for everyone to play and is supported by SYC Memberships.
Create your account
News from the blog
Welcome!
Now login with our guest account to view currently running races: Username: guest - Password: guest
PLEASE ONLY REGISTER YOUR OWN USERNAME AND PASSWORD IF YOU INTEND TO RACE.
All times on Sailonline are in UTC

GDPR - General Data Protection Regulations - Sailonline wishes to reassure all SOLers that it is aware of the regulation changes in relation to the protection of personal data. Sailonline cares about your privacy and will continue to let you control the personal information you provide. More info here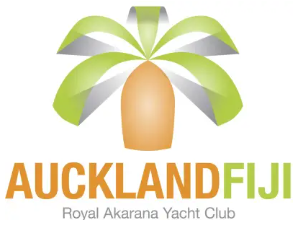 Races across the blue waters of the Pacific Ocean always fire up the imagination and the biennial race from Auckland to Fiji, organised by the Royal Akarana Yacht Club is certainly one of those that keeps our brains ablaze. However, post-pandemic, it has been difficult to rebuild interest in this truly iconic race planned for early June, and it has had to be cancelled. But it is still 'on' virtually at Sailonline.

In the past, RAYC has been very pleased to welcome "Big Red", Steinlager 2, among the entrants. Steinlager 2 is owned by the NZ Sailing Trust which aims to preserve yachts from the past to inspire future generations of New Zealand yachties, but Sailonline own a virtual version and are providing all online racers an opportunity to take her helm, to make it a truly historical competition!
To allow virtual racers ample opportunity for pre-race practice on-course, online entry will be open one week before the scheduled race start of 01:00 UTC, Saturday June 3 (Friday afternoon in New Zealand)!


Sailonline is delighted to announce that we will again be partnering with the Encinal, St Francis, Monterey Peninsula , Santa Barbara and San Diego yacht clubs, and this year online-host two of the ocean races of their prestigious California Offshore Race Week, the CA 500 and the SoCal 300.

The CA 500 is a recent addition to the Race Week's calendar and stands apart from the other races of the week and is contested by the very fastest and largest, in particular maxi trimarans, racing from San Francisco to San Diego, starting off the St Francis Yacht Club line on May 26 at 18:00 UTC.

The SoCal 300 is the third and final race for the California Race Week Overall title and sees the fleet race a slalom course from Santa Barbara to San Diego, starting on June 1 at 20:00 UTC.

Sailonline plans to bring on-screen the tracks of the real fleet so that we can see how competitive our virtual steeds will be against the in-real-life fleets.

Both races will open for pre-race practice early, approximately a week before their respective starts.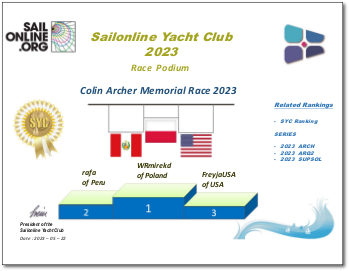 click on results image to see larger
GRATULACJE WRmirekd !!!
FELICIDADES rafa !! CONGRATULATIONS FreyjaUSA !

Race Leaderboard
Commentary
The Wadden Zee is a tricky place to get out of, and if you don't follow the buoyed channel, chances are you will come into trouble. Once out into the open Nord Sea, it seemed a straightforward fetch to Larvik beckoned. In reality the quickly changing conditions makes for some tricky decision-making and so it was for us in our virtual race.

Those at the front of the fleet just seemed to read the winds perfectly. Great praise indeed then is due to our eventual winners WRmirekd, rafa and FreyjaUSA. An excellent and well-deserved podium, guys!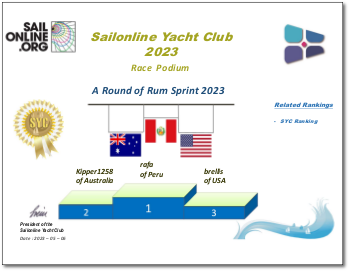 click on results image to see larger
FELICIDADES rafa!!!
GOOD ONYA Kipper1258!! CONGRATULATIONS brellis!
Race Leaderboard
Reports

Commentary
To continue our tightly contested sprint championship, we were extremely excited to welcome our SOLers back to the beautiful waters of Scotland for a circumnavigation of Rum Island, after 9 years!

This year's edition of the race was set at a time preferable to the Eastern Hemisphere, leaving most of our SOLers in the western hemisphere having to wake up at odd hours in the morning to start this race. With this came many interesting techniques of how our SOLers managed to do this, you can read how brellis was able to wake up in their wonderful report that they kindly provided down below!

Although the 21-nautical mile course for this race may have been straightforward, that didn't make it any less challenging for our SOLers, as the competition was fierce, and every sailor was determined to give it their all to come out on top. The light to moderate weather conditions presented their own set of difficulties, with the subtle changes in wind direction requiring careful attention and precise manoeuvres, with very little room for error.

After some great and skilful sailing, when our SOLers were spotted crossing the finish line at Kilmory Cove, rafa was first to complete their circumnavigation, claiming the gold medal! Second was Kipper1258 and despite the challenges of waking up early, brellis was able to complete our podium in style, claiming the third spot!

A special congratulations to our podium, top 10 finishers, and everyone who competed in this fantastic race!

Races
Next Race: 00d 00h 00m
---
Current Races:
Auckland to Fiji 2023
Welcome to Auckland and, for the fifth time in Sailonline's history, an epic race to the Melanesian island of Fiji, some 1144nm away. The iconic Steinlager 2 has traditionally been our boat of choice for this event, including in 2020, the last time we raced the course – alone, unaccompanied by a real fleet as it had been #COVID19 quarantined. Alas, this year we will again be racing unaccompanied as low entry numbers has seen the real race cancelled. Hopefully, though, some of the real sailors from the Royal Akarana YC, hosts of the real event, will be joining us online to pit their skills against ours in the ever-changing forecast winds.
Race #1675
INFO by brainaid.de
Steinlager 2 PARTICULARS
WX Updates:
0430 / 1030 / 1630 / 2230
Ranking:
SYC
Race starts: Jun 03rd 01:00 Registration Open!

GO TO RACE
Susan Hood Trophy Race 2023


Lake Ontario Offshore Racing (LOOR) welcomes racers to the third virtual Susan Hood Trophy race. This is a 75nm weekender on western Lake Ontario starting and finishing at the Port Credit Yacht Club (PCYC) via Niagara and Burlington, and is one of two that will count towards a special Sailonline's LOOR Series medals. As our Beneteau First 36.7 managed the course so well in previous years, we shall race her again!
Race #1690
INFOby brainaid.de
First 36.7 PARTICULARS
NAM_AWIP WX Updates:
0245 / 0845 / 1445 / 2045
Ranking: SYC - LOOR
Race starts: Jun 03rd 00:00 Registration Open!

GO TO RACE
SoCal 300 2023


Here, once again, is your chance to participate virtually in a second race of the California Race Week calendar, SDYC's challenging 243nm (as the seagull flies) SoCal 300 from Santa Barbara to San Diego. With a broad range of boats entered in the real race, virtual SOLers will have to dig deep to remain competitive in our trusty Santa Cruz 52s.
Race #1674
INFO
by brainaid.de
Santa Cruz 52
PARTICULARS
NAM_AWIP WX Updates:
0245 / 0845 / 1445 / 2045
Ranking: SYC
Race starts:
Jun 01st 20:00
Registration Open!
GO TO RACE
Cape Town to Auckland 2023
Welcome to this second RTW race 2023. It's also the June edition of this year's ocean race championship. The course is slightly different from the one sailed in 2020, which then also was part of the RTW series.
This time we will race in the IMOCA 60 foil, as in all RTW races this year. That should guarantee the fun in the South Seas in a truly tough race.
PRIZE: SMPF
Race# 1685
INFO from brainaid.de
IMOCA 60 foil Particulars
WX updates:
0430 / 1030 / 1630 / 2230
Ranking: OCQ2 - OCCH - RTW - SUPSOL - SYC
Race starts: Jun 01st 09:00 Registration Open!

GO TO RACE
CA 500 2023


To celebrate the 50th anniversary of the TransPac Ocean Race in 2019, the organisers of the California Race Week introduced a new longer distance event for line-honours machines. Popular with the largest maxi trimarans, this CA 500, 500nm from San Francisco to San Diego, repeats in 2023, and if you don't own a maxi trimaran, Sailonline are delighted to have the honour to, for the first time, make their virtual version available to you for a quick ethereal dash down America's west coast.
Race #1687
INFO
by brainaid.de
Maxi Tri
PARTICULARS
NAM_AWIP WX Updates:
0245 / 0845 / 1445 / 2045
Ranking: SYC
RACE CLOSE:
Saturday,
June 3 at 2300 UTC.
Race starts:
May 26th 18:00
Registration Open!
GO TO RACE
Lisbon to Cape Town 2023
Our second OCC race in Q2 is also our first race of a special
6-race RTW series, in IMOCA 60 Foilers, from the board of ita10267. Long bluewater legs, with the shores of the World's continents the only restriction on where you may sail, starting with a 5000nm leg from Lisbon to Cape Town. Enjoy!
PRIZE: SMPF
Race #1683
INFOby brainaid.de
IMOCA 60 foil Particulars
WX Updates:
0430 / 1030 / 1630 / 2230
Ranking: OCQ2 - OCCH - RTW - SUPSOL - SYC
RACE CLOSE: Thursday,
June 1 at 2300 UTC.
Race starts: May 03rd 09:00 Registration Closed

GO TO RACE
SYC Ranking
Series
Mobile Client
SYC members have the benefit of access to our mobile/lightweight web client!